For more information, please contact
John Chenery
Rizwan Khan nominated as Ontario Greens candidate in Don Valley East
April 29, 2022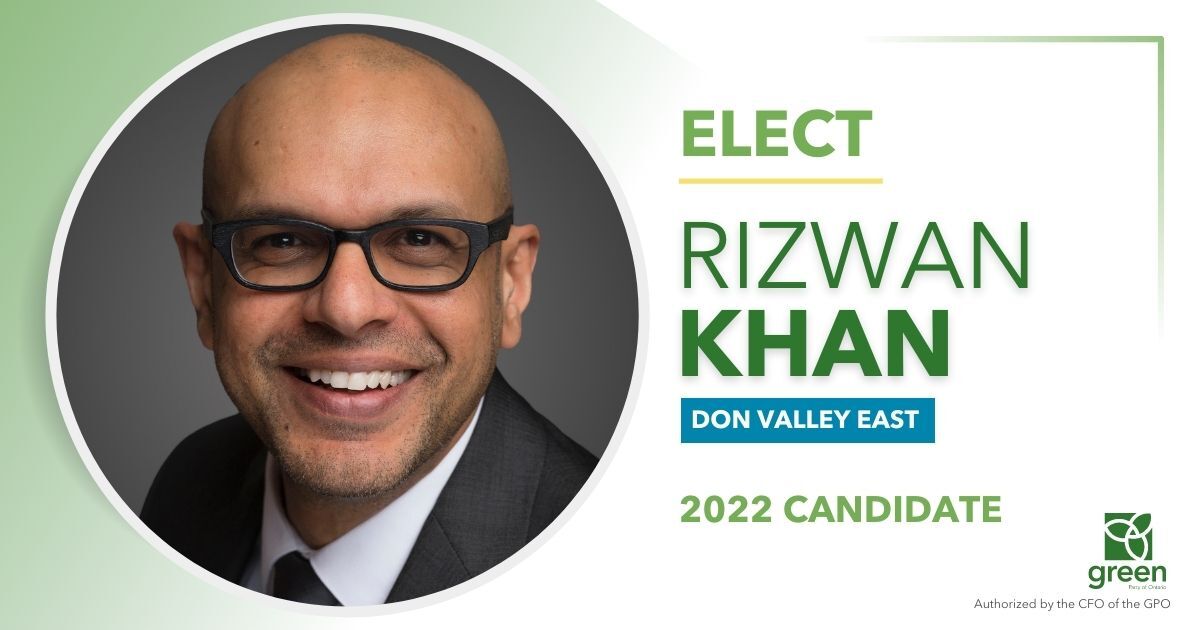 TORONTO — The Green Party of Ontario is proud to announce that Rizwan Khan has been nominated as its candidate for Don Valley East ahead of the 2022 provincial election.
Khan is an environmental lawyer and co-founding partner of a boutique law firm which serves residents and small business owners in Kingston and Toronto.
"I'm running for the Ontario Greens to protect people and the environment," Khan said. "Doug Ford has gutted a number of important laws and regulations designed to protect the health and well-being of our communities, especially the most vulnerable, the environment they live in, and the economy."
"Doug Ford has spent the past four years gutting vital environmental protections," Ontario Greens Leader Mike Schreiner said. "We need voices at Queen's Park like Rizwan, who understand what type of protections and regulations we need to protect people and planet."
As a lawyer, Khan has represented and advocated for numerous public interest groups whose mandates are to protect and improve public and environmental health.
He has provided feedback on the reform and improvement of municipal, provincial, and federal pollution prevention programs, the creation of a federal public park, and the implementation of greenhouse gas emission regulations. He has also collaborated with First Nation communities to produce a toolkit to create legal instruments such as by-laws and band council resolutions.
"I'm fighting for the future of my province, the future of my community, the future of my family, and my daughter's future," Khan said.
Rizwan holds an MSc in Food Chemistry from Dalhousie University and a Juris Doctor from Queen's University. He is a proud resident of Don Valley East and has lived there for nearly a decade.
-30-