For more information, please contact
Cecilia Stuart
Ontario Greens announce Zero-carbon Transportation Plan
April 29, 2022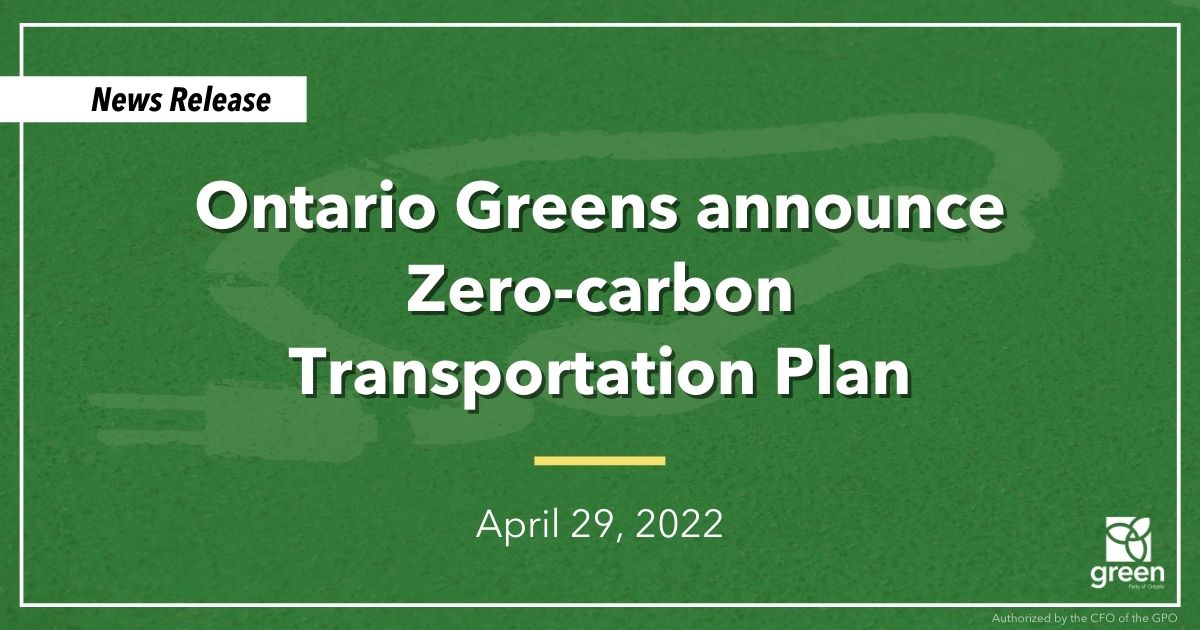 ETOBICOKE — Ontario Greens Leader Mike Schreiner announced his party's Zero-carbon Transportation Plan outside of the EV Network today alongside Deputy Leader Dianne Saxe. Fossil fuel transportation is polluting the air and it's making life more expensive as gas prices continue to soar.
"We need to get Big Oil out of our wallets and get relief from the pumps," Schreiner said. "And we can do it by making driving and biking electric more affordable, and improving and electrifying transit."
Transportation is the leading source of climate pollution in Ontario.

"If we want to get serious about tackling the climate emergency, we need to get off expensive fossil fuels that are making the climate emergency worse, polluting the air, harming our health, and making life less affordable," Schreiner said.
But Doug Ford's climate failure budget will ramp up transportation climate pollution by pumping billions into more supersprawler highways, while failing to invest in making EVs more affordable or electrifying transit.
Ontario Greens' Zero-carbon Transportation Plan will:
Make it more affordable to drive and bike electric by implementing a $10,000 cash incentive for a new electric car and $1,000 for a used electric car or e-bike
Make EVs more accessible by significantly expanding EV charging infrastructure in both public and private settings, including parking lots, transit stations, highway rest stops and homes
Add 4,000 electric and fuel-cell buses by 2030
Electrify GO Transit and Metrolinx
Triple public transit trips by 2030 by making transit clean, convenient, frequent, fast, safe, affordable and accessible
"This plan is not only good for our climate and our health, but it also will create good green jobs," Schreiner said. "Ontario Greens have the leadership we need to make Ontario a global leader in the multi-trillion dollar new climate economy."
"Doug Ford is making the climate emergency worse and polluting the air," former Environmental Commissioner of Ontario Dianne Saxe said. "There's so many benefits to driving electric. Ontario Greens have a real plan to electrify transportation, and we can source the batteries sustainably right here in Ontario. Let's build an electric future."
-30-