For more information, please contact
Cecilia Stuart
Ontario Greens will combat speculation to make housing more affordable for first-time home buyers
April 27, 2022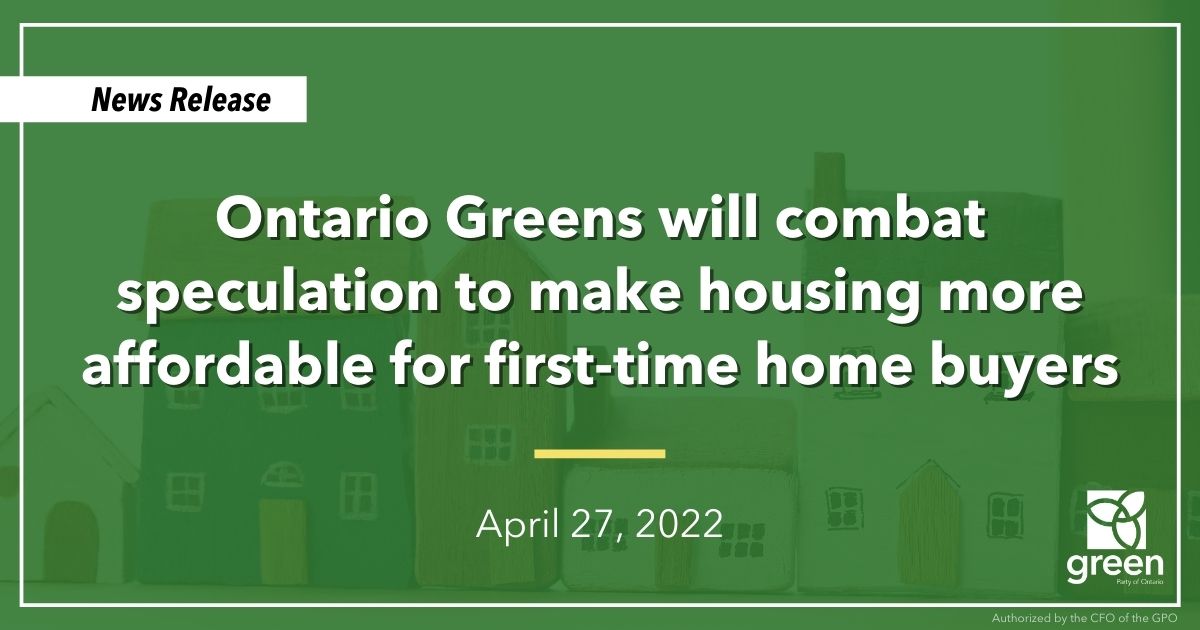 TORONTO — Ontario Greens will make housing more affordable for first-time home buyers by cracking down on wealthy speculators and corporations.
"Ontario Greens understand how hard it is for families to afford a home in the communities they love and we have real solutions to help," Ontario Greens Leader Mike Schreiner said at an announcement in downtown Toronto as part of his Stop the Sprawl Tour.
"Deep-pocketed speculators are buying up properties in unprecedented numbers. This is ramping up the already sky-high price of housing. In fact, nearly a third of Ontario's housing wealth is held by individuals and corporations who own multiple properties."
To tackle rampant speculation, Ontario Greens will implement a multiple homes speculation tax, equivalent to the existing Non-Resident Speculation Tax (NRST). The tax will only apply to new purchases of homes for domestic individual or corporate buyers who already own two or more homes or condominium units. The tax would start at 20% for the third home purchased and would increase with each additional property. This tax is part of a suite of measures proposed by the Ontario Greens to reduce speculative demand in the housing market which also includes a vacant homes tax.
Ontario Greens are the first and only party proposing this important policy that will combat speculation to make housing more affordable for first-time home buyers.
"It's time to level the playing field and pull back the red carpet that Doug Ford rolled out for wealthy speculators so first-time home buyers can have a chance," Schreiner stated.
For example, almost 30% of homes purchased in Toronto in the first eight months of 2021 were by people who already owned at least one other property — more than first-time homebuyers or people moving from one home into another.
"Young professionals and young families are getting priced out of the market as Ford lets speculation run out of control," Schreiner said. "It's forcing people to move further and further away from the communities they work in, leading to longer and more expensive commutes and more climate-polluting urban sprawl."
"A whole generation of young people are giving up hope of ever owning a home," Schreiner said. In February, the average price of a home in Ontario increased 26% year-over-year to over $1 million.
"Ontario Greens have solutions to address this crisis and we will provide the leadership needed to take on wealthy speculators."
-30-