For more information, please contact
John Chenery
Ontario Greens will stop the sprawl and make public transit better and more affordable in Ottawa
April 25, 2022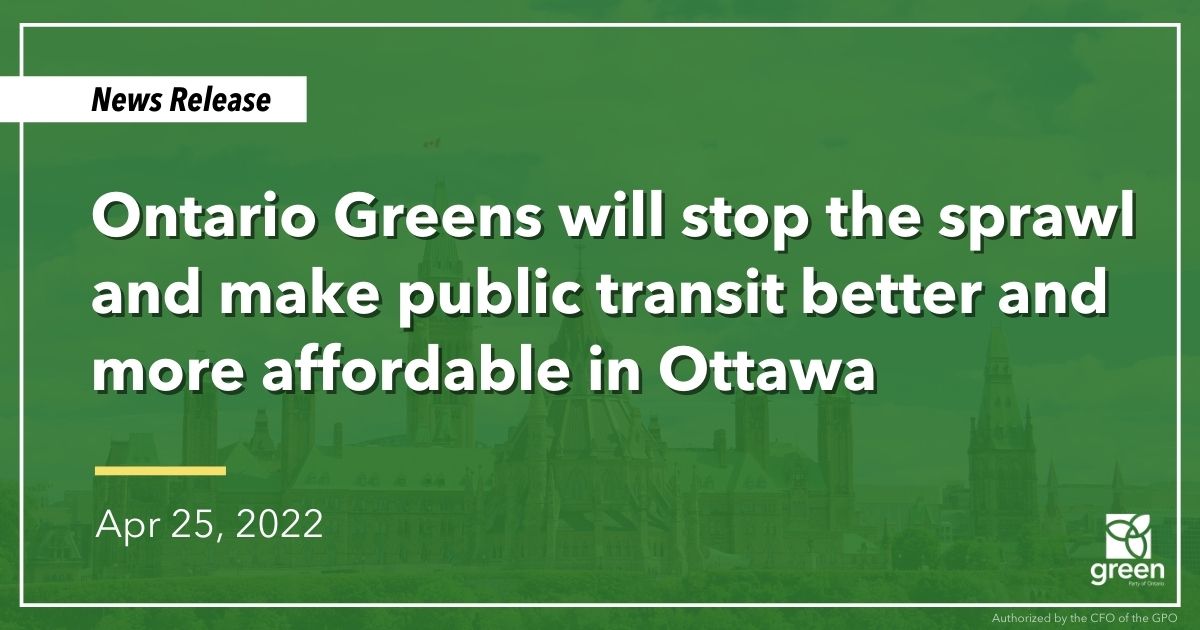 OTTAWA — Ontario Greens Leader Mike Schreiner was in Ottawa today as part of his Stop the Sprawl Tour to announce his party's commitment to making public transit better and more affordable. He was joined by local Ontario Greens candidates Michelle Petersen (Orléans), Shelby Bertrand (Ottawa Centre), Christian Proulx (Ottawa-Vanier) and Thalia Riden (Glengarry-Prescott-Russell).
"Doug Ford's sprawl agenda is making life more expensive," Schreiner.
"He's forcing people into long, expensive, soul-crushing commutes, which increases climate pollution, harms our health, paves over farmland and makes the climate emergency even worse.
"Ontario Greens will stop the sprawl and build affordable and livable communities connected by affordable, accessible, and reliable transit." Ontario Greens will make public transit better and more affordable in Ottawa by:
Immediately cutting transit fares in half for an initial three months as an immediate measure to address the current cost of living crisis and soaring gas prices
Working with the City of Ottawa to improve public transit service and make it more affordable in the long-run, by restoring the 50% provincial cost-share for transit operations, so everyone has an affordable way to get around
Implementing time-of-day pricing to make off-peak transit use cheaper and more popular
Cancelling the province's plan to widen Highway 417, which will promote expensive sprawl, undermine transit use and increase pollution
Overall ridership of public transit in Ottawa in 2021 averaged just 32 per cent of 2019 pre-pandemic levels. With soaring gas prices, people need an affordable way to get around.
"We're in a cost of living crisis and a climate crisis. And we can address both at the same time by making transit more affordable, accessible, frequent and reliable," Schreiner said.
At the announcement, Schreiner also addressed the ongoing Ottawa LRT situation – which highlights just how important good, reliable transit is for communities. "I know it's been tough for the people of Ottawa. And Ontario Greens will push for solutions to the challenges with the LRT so it can be effective and workable for residents, " Schreiner said. "We'll be watching the outcomes of the inquiry to ensure the same mistakes aren't made again."
-30-