For more information, please contact
John Chenery
Ontario Greens announce plan to address environmental racism
April 21, 2022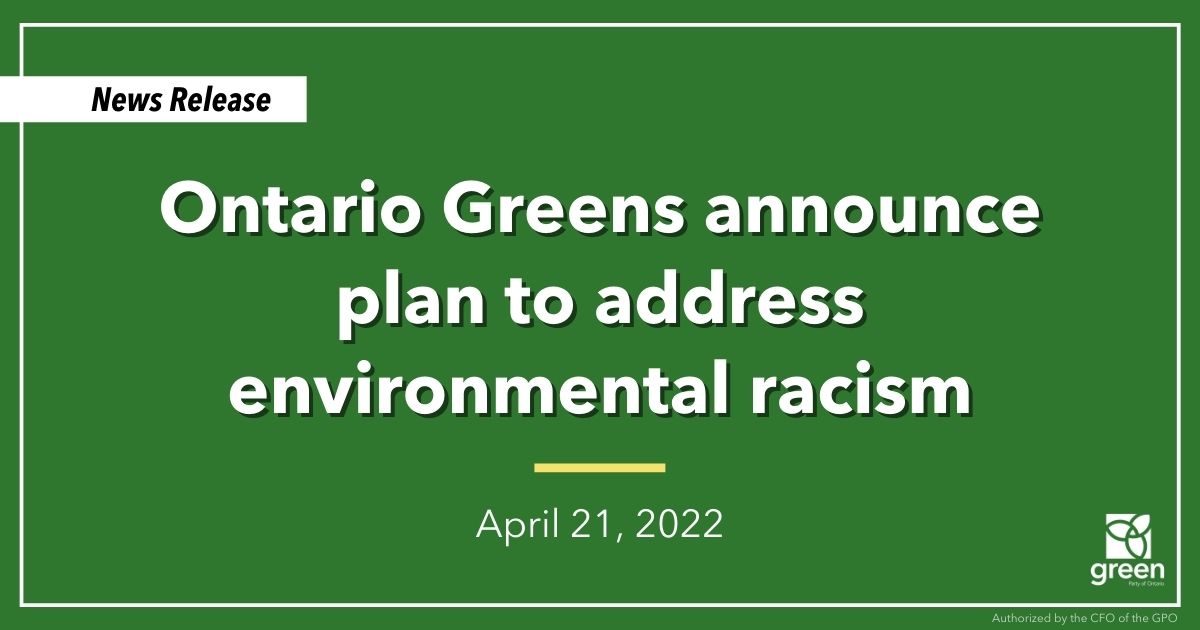 TORONTO — Ontario Greens will address environmental racism as the public health crisis it is.
"Environmental racism is a public health crisis," Ontario Greens Leader Mike Schreiner said. "Whether it's polluted air, water, or land, or a greater risk of climate disasters like flooding and wildfires, racialized communities are disproportionately impacted by the effects of the climate crisis."
Numerous studies have shown the direct link between race, environmental impacts, and negative health consequences. For example, in Toronto, air pollution is more concentrated in highly racialized areas like Scarborough and Etobicoke North. The same can be said of the environmental and health impacts on Indigenous communities in places like Chemical Valley and Grassy Narrows.
"This is no accident," Schreiner said. "This is systemic racism in action.
"As the climate emergency worsens, this inequity will continue to grow, unless urgent action is taken."
Ontario Greens will:
Immediately clean up the mercury that's poisoning Grassy Narrows (Asubpeeschoseewagong First Nation)
Require the Ministry of Environment to develop and report on a strategy to address environmental racism
Establish stricter monitoring and enforcement standards for air and water pollution in areas where communities are exposed to potential health risks from multiple industries (e.g. Aamjiwnaang First Nation)
Address the structural racism that affects the way we design communities by increasing access to greenspace in neighbourhoods where there are larger racialized communities
Safely close down the aging Line 5 pipeline, which severely threatens the waters, lands, and way of life for Indigenous peoples living in nearby shoreline communities. The Liberals and NDP both notably failed to vote against keeping Line 5 up and running.
-30-