For more information, please contact
Cecilia Stuart
Mike Schreiner highlights Ontario Greens' plan to support the Black community at Provincial Leaders Townhall
April 21, 2022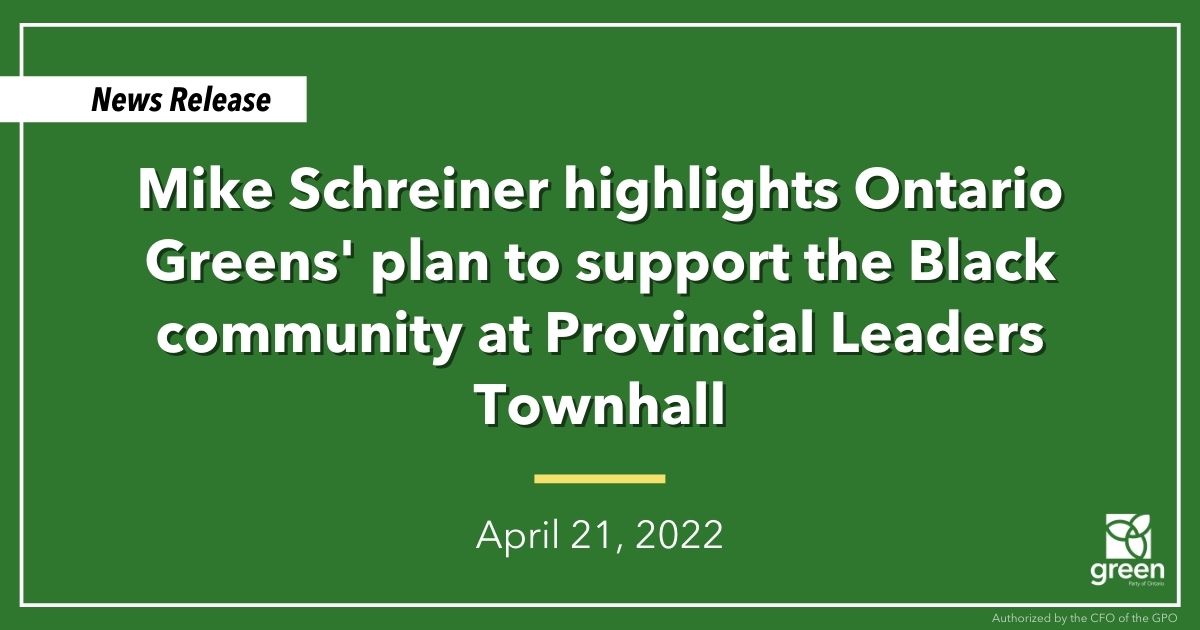 TORONTO — At tonight's Black Community Townhall, Mike Schreiner highlighted the Ontario Greens' solutions to support Black-owned businesses and jobs in the new climate economy, address systemic racism and tackle the disproportionate mental health burden faced by many Black communities.
"We have a lot of work to do to build the Ontario we want, where the colour of your skin does not create barriers to the quality of life you want to live," Schreiner said.
"We need to dismantle barriers and provide funding so that members of the Black community can take advantage of the huge opportunity of the new climate economy."
Ontario Greens will support 60,000 young students by providing a year's tuition and apprenticeship to set them up for success in the new climate economy.

Discussing his party's mental health plan, which was the first-ever standalone mental health platform released in Ontario history, Schreiner discussed the need for more investment in affordable services and supports in Black communities.
"We have to address the intersection between race and mental health and the negative police encounters that occur in many Black communities," Schreiner said. "That's why we're proposing a 3-digit mental health crisis line so people can get help from health professionals instead of the police."
This approach of increased funding for mental health support notably contrasts with the Ontario Liberals' plan that will increase police funding.
Earlier today, Schreiner announced his party's plan to address environmental racism, an important issue that he emphasized at tonight's townhall. "We know that Black and other racialized communities are the first and worst hit by the climate crisis," Schreiner said.
"And that's why we can't afford to wait," Schreiner closed. "We have to act now to address the climate emergency and make sure we protect and support vulnerable communities."
"We need new solutions to old problems — not just the no measures or half measures of the old-line parties that will only paper over the cracks."
-30-