For more information, please contact
Cecilia Stuart
Ontario Greens will cancel Highway 413 and create a dedicated 407 truck lane
April 20, 2022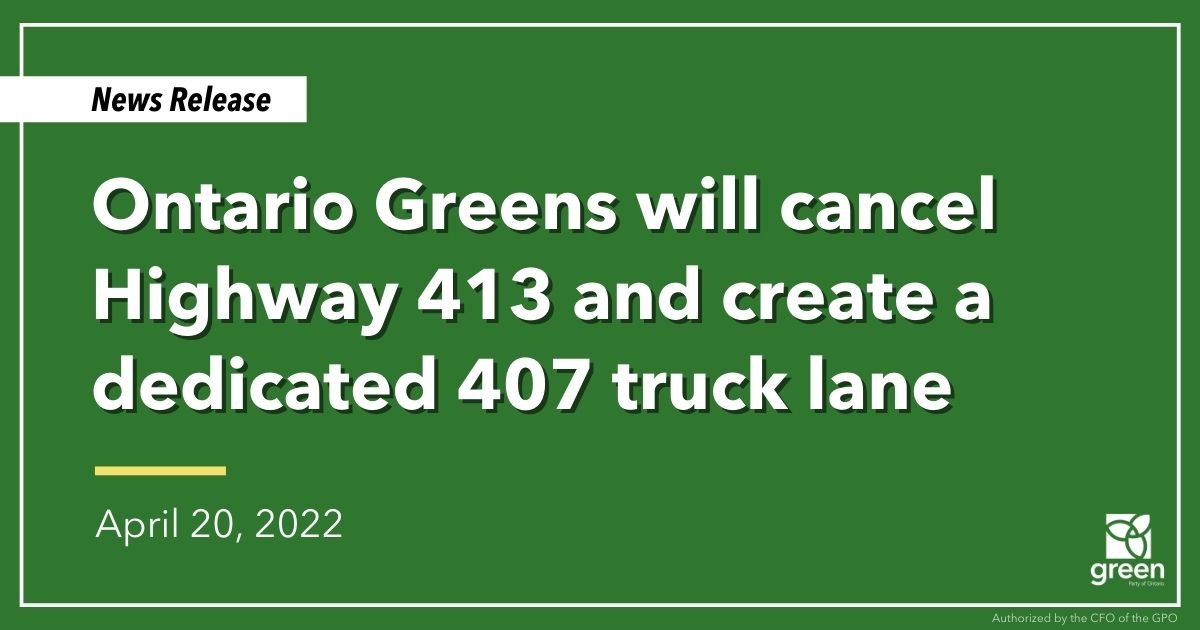 CALEDON — Ontario Greens Leader Mike Schreiner was in Dufferin-Caledon today as part of his Stop the Sprawl Tour to announce his party's commitment to cancelling Highway 413 and creating a dedicated truck lane on the 407.
"Ontario Greens have a plan to stop the sprawl," Schreiner said. "We will cancel this $10 billion dollar fiscal and climate disaster and make use of the underutilized 407 to keep the flow of goods moving."
Under the Ontario Greens' plan, truckers would not be on the hook to pay the 407 tolls.
Schreiner was joined at the announcement by Ontario Greens' Dufferin-Caledon candidate Laura Campbell.
"The momentum against Highway 413 in my community is growing everyday," Campbell said. "We already knew this highway was a complete disaster, but then this week we learnt that Doug Ford intentionally chose the most environmentally destructive route. It's outrageous.
"This highway will destroy the wetlands that clean the water the people in my community drink. it will pave over the farmland that feeds Dufferin-Caledon and Ontario, and it will pollute the air that we all breathe. All for what? To save commuters just 30 seconds."
Highway 413 will pave over 2,000 acres of farmland and 400 acres of the Greenbelt, cut across 85 waterways, destroy 75 wetlands, disrupt the habitats of 10 species-at-risk and pump over 17 million tonnes of climate pollution into the air by 2050.
"It's time to stop Doug Ford's expensive pro-sprawl, anti-climate agenda," concluded Schreiner. "Ontario Greens will build affordable, livable and connected communities — so people don't have to rely on expensive, soul-crushing, multi-hour commutes just to find an affordable place to call home. We'll protect the nature that protects us and crush climate pollution."
-30-