For more information, please contact
John Chenery
Ontario Greens will make life more affordable in Parry Sound–Muskoka
April 19, 2022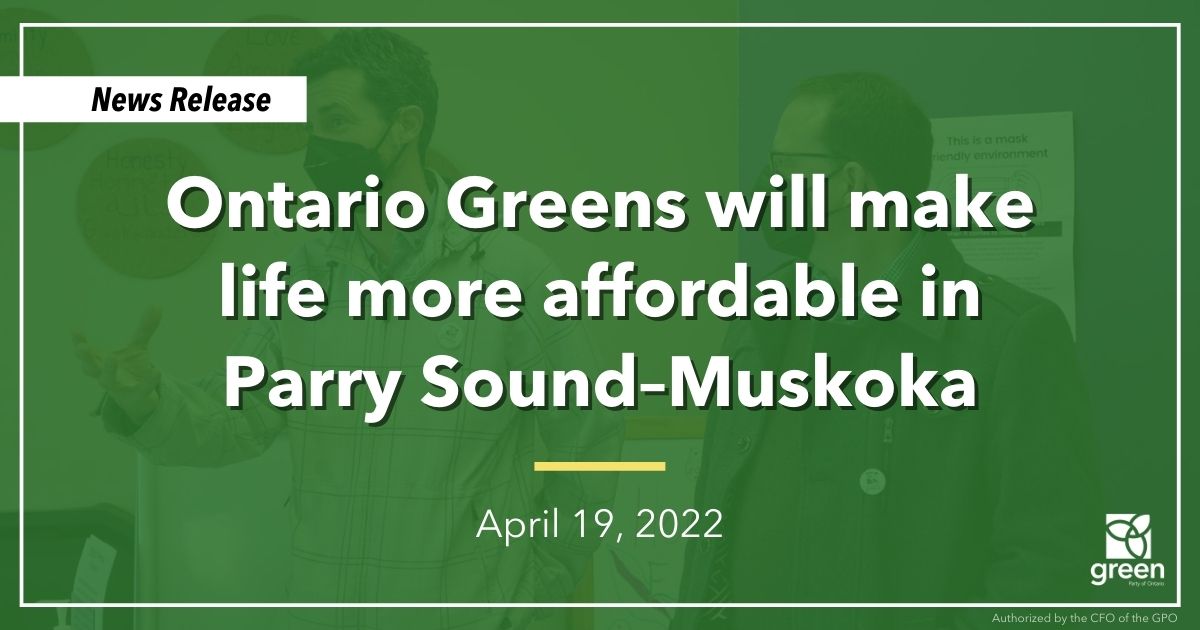 PARRY SOUND — Ontario Greens Leader Mike Schreiner joined local candidate Matt Richter in Parry Sound today to meet with residents and highlight the party's Affordability Action Plan.
"The election gimmicks and handouts the other parties are offering will not solve the systemic affordability challenges the people of Parry Sound–Muskoka are facing," Schreiner said.
Ontario Greens were the only party to vote against the Ford government's license plate sticker gimmick.

"We're here to earn your vote, not buy it," Richter said. "We have real, sustainable solutions that will make life more affordable for the people in our community to keep a roof over their head, get around, pay the bills, and put food on the table." Ontario Greens' Affordability Action Plan will:
1) Immediately address the housing affordability crisis
Expand zoning options to increase housing supply
Implement vacancy and rent controls on all units
2) Make it more affordable for people to get around
Immediately cut transit fares (including Northlander buses) in half for an initial three months
Immediately get Northlander passenger rail back on the tracks
Make it more affordable to drive and bike electric by offering rebates of up to $10k for electric cars and $1k for e-bikes and used electric cars
3) Save energy and lower people's utility bills
Launch a transformative green retrofit program
Offer real incentives to make efficient heat pumps affordable
4) Address skyrocketing food prices
Permanently protect farmland from urban sprawl and freeze urban boundaries
Implement a Grocery Code of Conduct to protect farmers, local food producers and consumers
Schreiner and Richter spent the day meeting with local residents and also met with the Sound Community Hub, a local non-profit housing provider, to discuss local solutions to the housing affordability crisis.
-30-