For more information, please contact
John Chenery
Shelby Bertrand nominated as Ontario Greens candidate in Ottawa Centre
April 18, 2022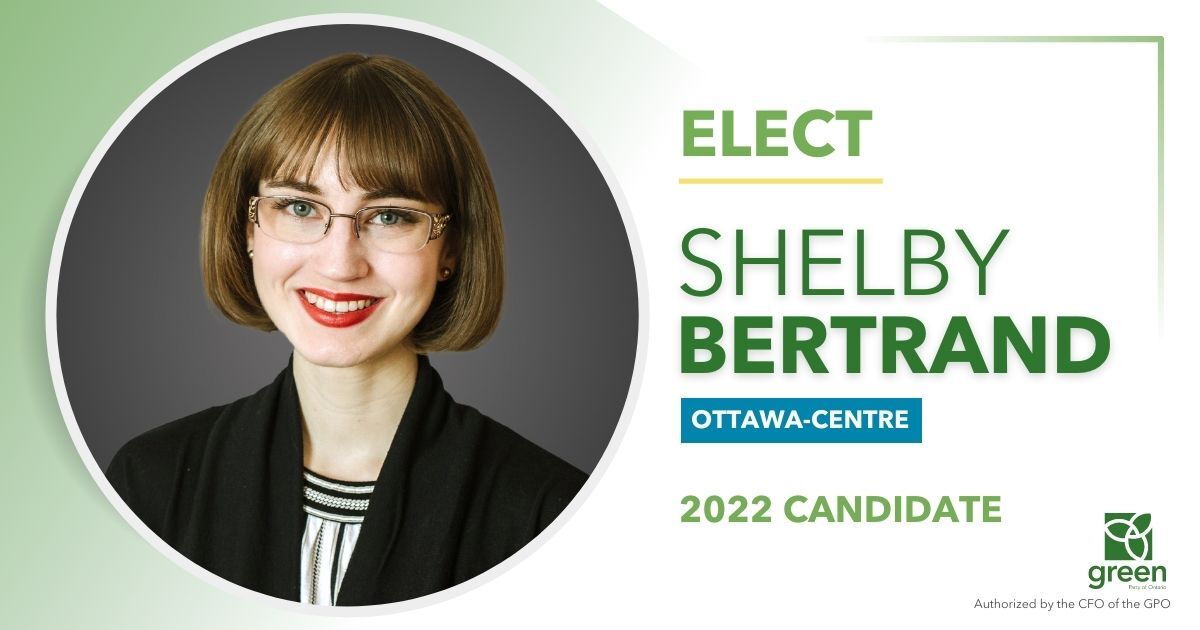 OTTAWA — The Green Party of Ontario is proud to announce that Shelby Bertrand has been nominated as its candidate for Ottawa Centre ahead of the 2022 provincial election.
Shelby Bertrand is a political activist and former public servant. She is currently pursuing a Master's degree in Philosophy at the University of Ottawa.
"I fell in love with the Ottawa community and its vibrant, diverse population and active civil society when I moved here seven years ago," Bertrand said. "And I've made it my mission to give back and help build a better Ottawa ever since."
Bertrand is deeply involved in her community through volunteer work and community engagement.
"Shelby is committed to improving the lives of the people in her community," Ontario Greens Leader Mike Schreiner said. "Whether it is ensuring affordable housing or accessible mental health care for all, she'll work tireselly to build a more caring, affordable and healthy Ottawa."
Shelby's compassionate activism has been shaped by her experience with Crohn's disease, and her work with residential school survivors in the public service.
She is passionate about affordable housing, reliable and accessible mental health services, and justice for Indigenous communities.
-30-