For more information, please contact
Cecilia Stuart
New forecast shows Ford throwing up the white flag on climate emergency
April 16, 2022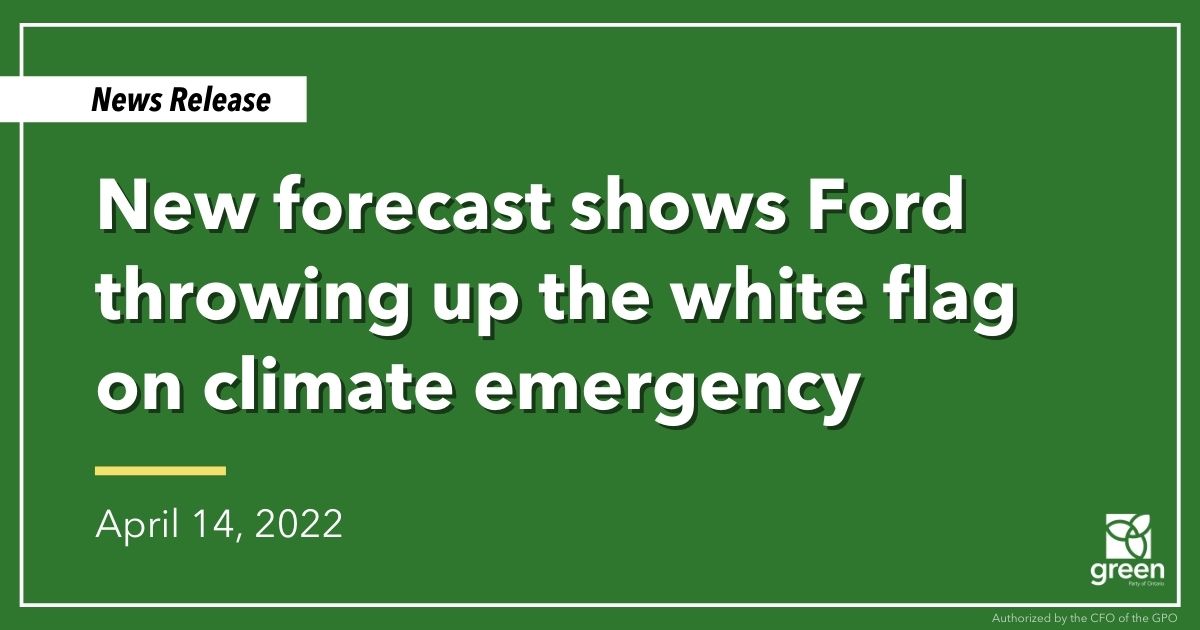 TORONTO — The Ford government released an "updated forecast" of Ontario's climate pollution through 2030 this week on the Environmental Registry of Ontario and it is a complete embarrassment.
"This forecast has no credibility," Ontario Greens Deputy Leader and Environment & Climate Critic Dianne Saxe said. "It hides even more details than the groundless numbers in the last Ford forecast, which the Auditor General has twice slammed, and which the Ministry of the Environment's own staff say would not be achieved.
"This forecast proves again that Doug Ford is doing nothing on the climate emergency, except for what the feds are paying for or forcing them to do,"
The Ford government still clings to its extremely weak, outdated 2030 target of reducing 2005 emissions levels by 30%.
"To do nothing on the greatest issue of our time is an insult to our children and future generations," Saxe, who formerly served as the Environmental Commissioner of Ontario, stated.
"Doug Ford is throwing up the white flag on climate action," said Ontario Greens Leader Mike Schreiner. "He's making no attempt to take advantage of the huge opportunities of the new climate economy. Instead, he's making the climate emergency worse by ramping up fossil gas plants and supercharging climate-polluting urban sprawl."
Ontario Greens have a real plan for real action to crush climate pollution:
Implement a Carbon Budget for the rest of the century and will cut Ontario's climate pollution in half by 2030 and to net-zero every year from 2045
Use energy efficiency upgrades and heat pumps to replace fossil fuel use in buildings by 40% by 2030 and to net-zero by 2040
Clean the air by replacing fossil fuel used in vehicles in half by 2030 and to net-zero by 2040 with electric vehicles, transit, active transportation and connected communities
-30-