For more information, please contact
John Chenery
Schreiner announces Ontario Greens' Affordability Action Plan to address cost of living crisis
April 14, 2022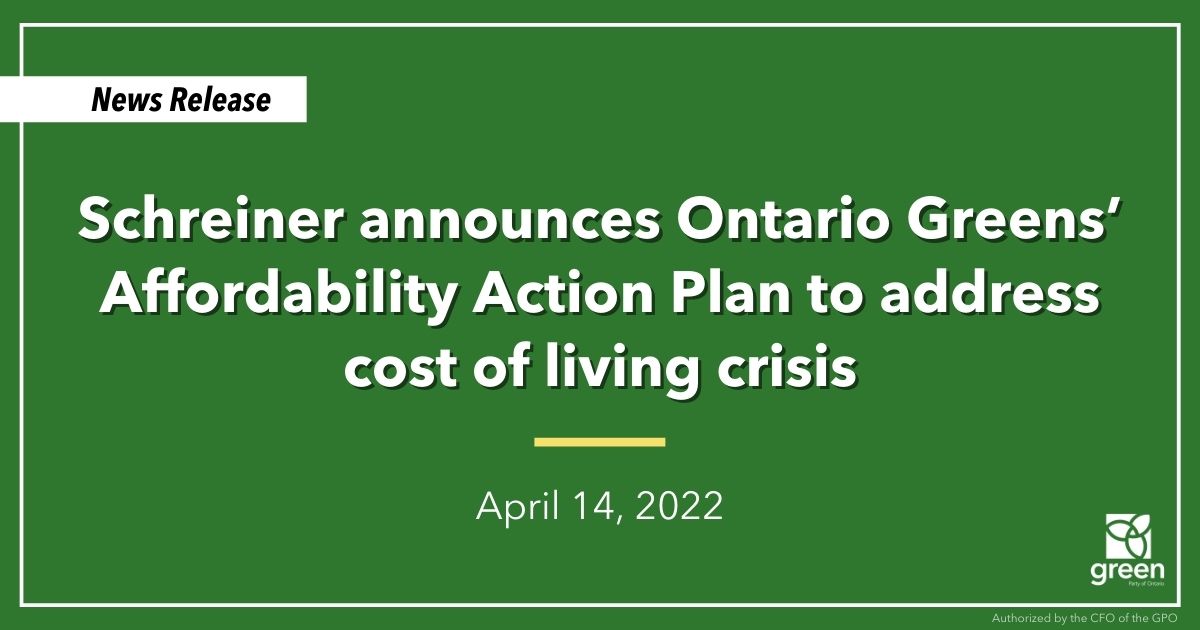 TORONTO — Ontario Greens Leader Mike Schreiner announced his party's Affordability Action Plan today to address the skyrocketing cost of living.
"It's getting more and more expensive for people to keep a roof over their head, put food on the table, keep the lights on, and get around," Schreiner said at the Queen's Park announcement. "Ontario Greens have real, sustainable solutions to these affordability challenges facing Ontarians." The Ontario Greens' Affordability Action Plan will:
1. Immediately address the housing affordability crisis
Expand zoning options to increase housing supply
Implement vacancy and rent controls on all units
2. Make it more affordable for people to get around
Immediately cut transit fares in half for an initial three months
Make it more affordable to drive and bike electric by offering rebates of up to $10k for electric cars and $1k for e-bikes and used electric cars
3. Save energy and lower people's utility bills
Launch a transformative green retrofit program
Offer real incentives to make efficient heat pumps affordable
4. Address skyrocketing food prices
Permanently protect farmland from urban sprawl and freeze urban boundaries
Implement a Grocery Code of Conduct to protect farmers, local food producers and consumers
"The election gimmicks and handouts the other parties are offering will not solve the affordability crisis and will make the climate emergency worse," Schreiner said. Ontario Greens were the only party to vote against the Ford government's license sticker gimmick.
"Doug Ford's election gimmicks mean less money to make mental health care affordable and his pro-sprawl agenda will force people into more expensive commutes. Rolling out the red carpet for Big Oil and wealthy speculators will make people's lives more expensive — not less."
-30-