For more information, please contact
Cecilia Stuart
Schreiner pledges commitment to Vision Zero, municipal transit & green infrastructure funding at OGRA conference
April 13, 2022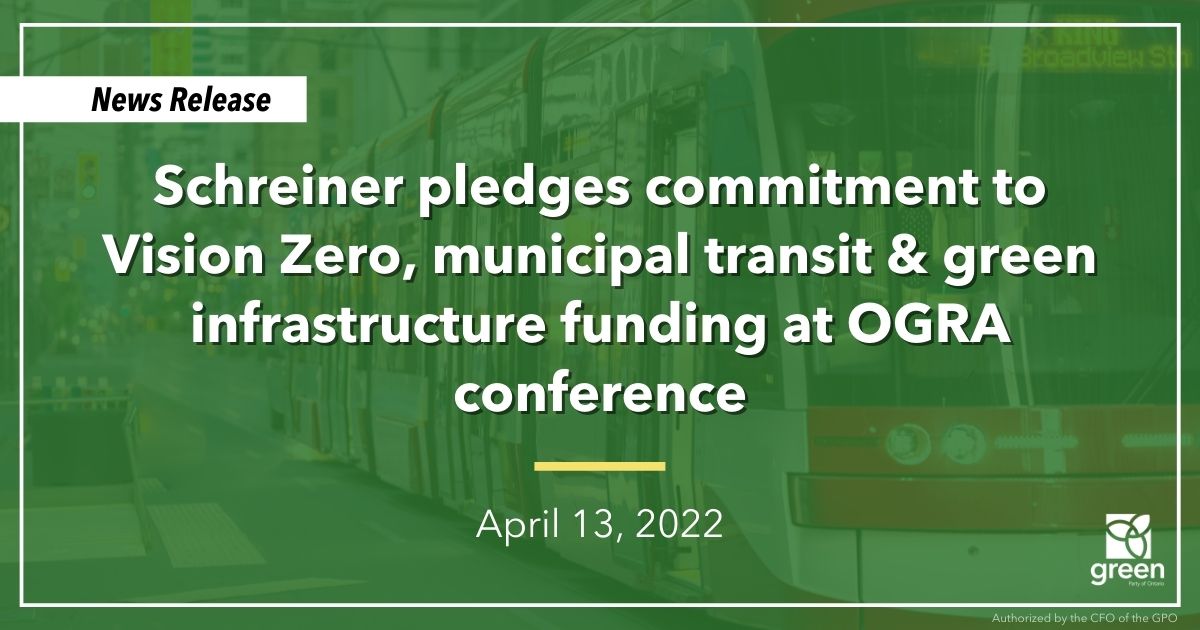 TORONTO — Ontario Greens Leader Mike Schreiner addressed municipalities at the 2022 Ontario Good Roads Conference this morning.
During his address, Schreiner committed to:
implementing Vision Zero,
creating an $8 billion Climate Adaptation Fund to support municipalities with green and resilient infrastructure,
and restoring the 50% provincial cost-share for transit operations.
"Ontario Greens will be a partner with municipalities to build safer, more affordable, and more sustainable communities," Schreiner said. "Where everyone has an affordable place to call home and a safe, affordable way to get around.
Schreiner stressed the importance of building 15 minute communities where people can work, live and play, without having to break the bank commuting hours every day. Ford's pro-sprawl agenda is paving over farmland, increasing climate pollution and making life more expensive. We cannot afford to depend on half measures or no measures.

"We need more than just tweaks to a broken system," Schreiner stated. "We need an upstream approach where we address the root problems instead of just the symptoms.
"Where we address gridlock with solutions like safer, walkable communities and affordable transit, instead of adding more expensive highways that make traffic even worse through induced demand," Schreiner said in reference to the multi-billion dollar Highway 413 and Holland Marsh Highway.
"And where we address the issue of skyrocketing gas prices by making it more affordable and accessible to drive and bike electric, instead of continuing to support expensive, climate-polluting fossil fuel consumption." The Liberals notably failed to vote against Doug Ford's gas tax bill, while the NDP are currently pushing forward with their own legislation that would ramp up climate pollution.
"We need new solutions to old problems," Schreiner concluded. "Ontario Greens are ready to work with municipalities as a partner to build the Ontario you want. And we're here to provide the leadership we need."
-30-