For more information, please contact
Cecilia Stuart
Ontario Greens Leader Schreiner will protect Paris Galt Moraine and Grand River watershed as part of Bluebelt
April 7, 2022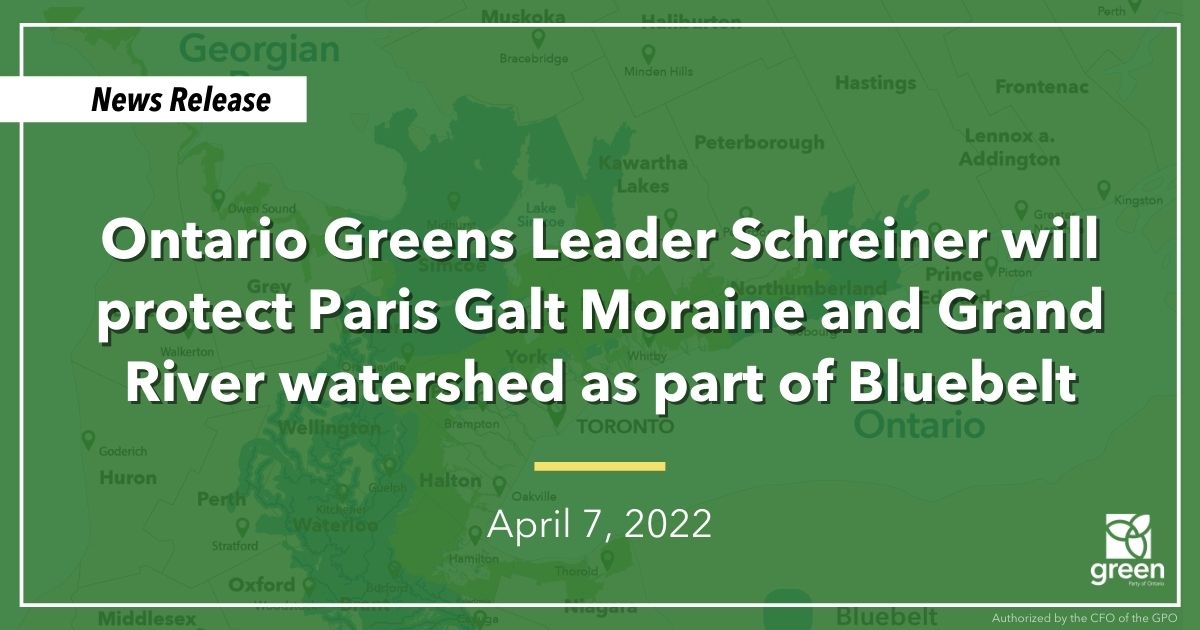 GUELPH — Ontario Greens Leader and MPP for Guelph Mike Schreiner will protect the Paris Galt Moraine, the headwaters of the Grand River watershed and the Grand River through Haldimand County as part of a proposed new Bluebelt.
The proposal calls for doubling the size of the existing 1.8 million-acre Greenbelt to include a protected Bluebelt of critically important watersheds, wetlands, moraines and river systems.
"We're in a climate emergency and need to urgently protect water before the situation becomes more costly," Schreiner said.
Just last week, the Ford government released a disappointing Greenbelt proposal that omitted the Paris Galt Moraine and other key areas, making it clear that Doug Ford's sprawl agenda comes before the protection of the environment and the places we love.
"The Paris Galt Moraine and Grand River watershed provide clean drinking water to the people of Guelph and beyond, and protect us from climate-fueled extreme weather like expensive flooding," Schreiner said. "Protecting these important areas with the Bluebelt is the fiscally responsible thing to do."
Yesterday, Schreiner tabled a motion in the legislature stating that "…climate change and development are serious threats to Ontario's water, which therefore should be protected by expanding the size of the Greenbelt to include a Bluebelt that protects critically important watersheds, basins and river systems…"
A flooded basement costs Ontarians upwards of $40,000 to repair, while expanding the Greenbelt to include the Bluebelt would save money.

It's time to get this done. We can't afford to wait any longer.
-30-