For more information, please contact
John Chenery
Elyse Robinson nominated as Ontario Greens candidate in Barrie–Springwater–Oro-Medonte
March 30, 2022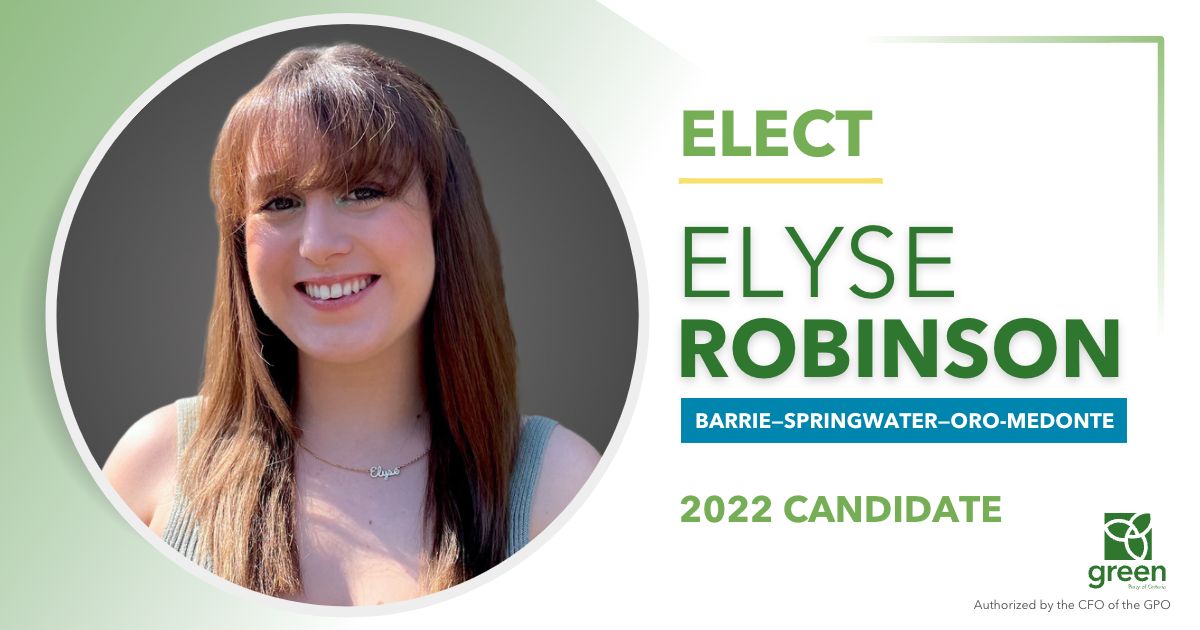 SPRINGWATER — The Green Party of Ontario is proud to announce that Elyse Robinson has been nominated as its candidate for Barrie-Springwater-Oro-Medonte ahead of the 2022 provincial election.
"Ontario Greens are the only party with a real plan to take the bold and transformative action that's needed to solve the climate crisis and protect nature and water," Robinson said.
"Elyse understands that climate action, housing affordability and mental health are issues that need real solutions," Ontario Greens Leader Mike Schreiner said. "We're excited to have her join the team."
"If we want to protect nature, we need to consult and work with Indigenous Peoples and be committed to climate justice ," Robinson said. "If elected, I will spend every day working for meaningful action towards reconciliation, and to conserve ecosystems and build climate-resilient communities."
Robinson holds an Honours Bachelor's degree in Journalism and Political Science from Carleton University, where she received the K. Phyllis Wilson scholarship for excelling in her program.
She is a climate activist, and while studying at Carleton, helped organize one of Ottawa's first major global climate strikes. Robinson was also the head of events for Carleton's Green Party campus club.
-30-