For more information, please contact
Cecilia Stuart
Schreiner pens open letter calling on Doug Ford to cut transit fares in half
March 29, 2022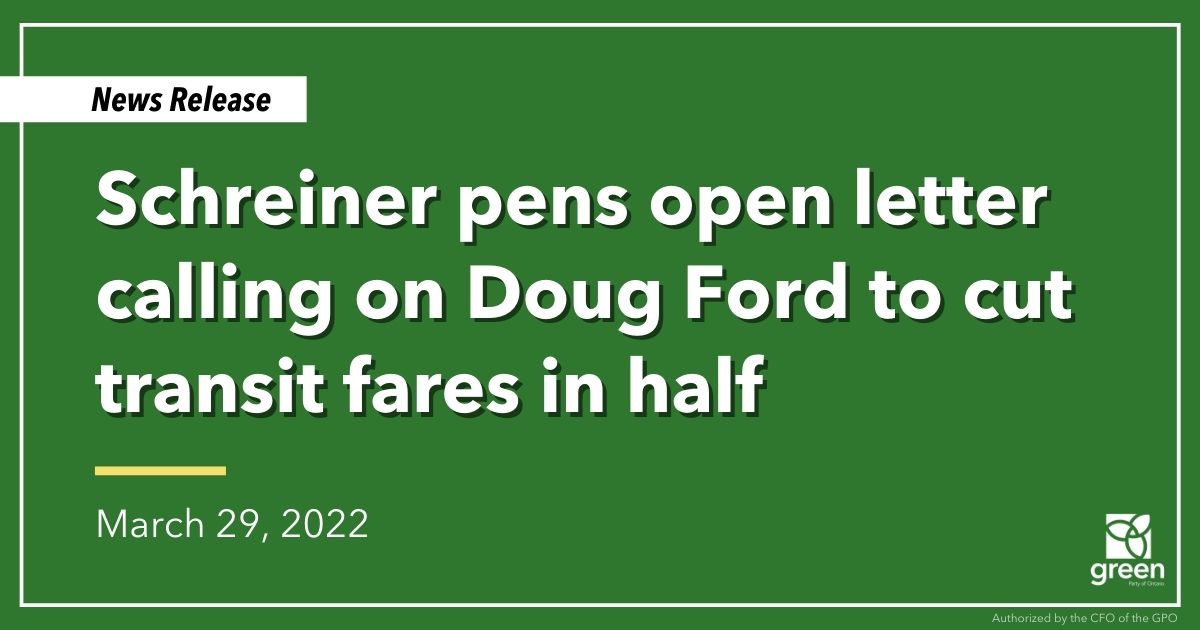 TORONTO — This afternoon, Ontario Greens Leader Mike Schreiner wrote an open letter to Premier Ford calling on the government to immediately cut public transit fares in half as cost of living and gas prices continue to rise.
"This simple but effective proposal will help many Ontarians offset record-high gas prices and the impact those prices are having on every aspect of their lives." Schreiner wrote. "We must take action to support Ontarians, but subsidizing gas prices is not the sustainable answer."
In an effort to address the intersecting affordability and climate crises impacting this province, the Ontario Greens are proposing a 50 per cent discount on all public transit fares, including GO Transit and Ontario Northland services, for the next three months. Reallocating a small portion of the money earmarked for expensive highways could easily cover this immediate relief program.
For seniors, students, single parent families, people on ODSP, and many millennials, a 50 per cent discount in transit costs could mean anywhere from an extra $20 a week to $100 a month.
"When you live on minimum wage, that can be a small fortune. It can literally mean the difference between health and heartbreak, between getting to work or not," penned Schreiner.
"I hope you consider our request and see it as a sensible way to make life more affordable for the people who work hard to make our economic engine run every day – they are no less important than the leather interior or the power sunroof," concluded Schreiner. "We are all part of the same province."
-30-