For more information, please contact
Cecilia Stuart
Doug Ford has Ontario playing catch up on EVs
March 23, 2022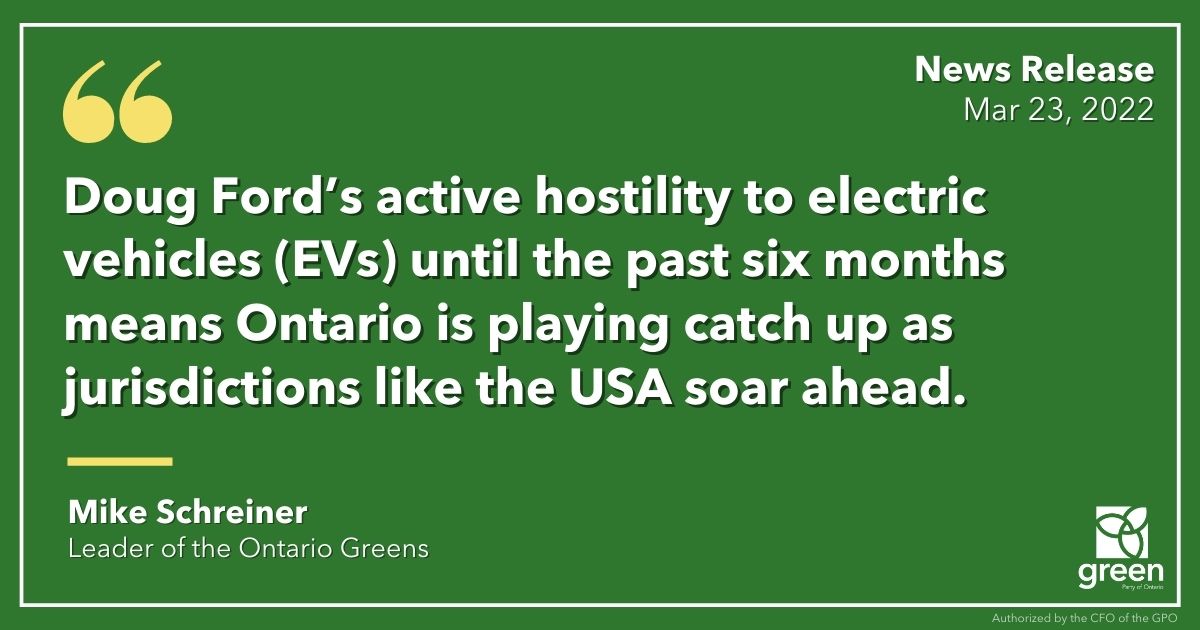 WINDSOR — Mike Schreiner made the following statement in response to the new electric battery vehicle plant in Windsor:
"Doug Ford's active hostility to electric vehicles (EVs) until the past six months means Ontario is playing catch up as jurisdictions like the USA soar ahead.
While today's announcement is a good news story and another Green victory, Ontario is lagging behind and must be more aggressive in attracting investment and jobs.
Auto companies poured $11.5 billion into EV manufacturing in Tennessee and Kentucky last year alone.
Ontario should be getting a much bigger share of the EV pie, but Doug Ford only just started turning the oven on to bake.
Increasing demand for EVs will help fire up the oven faster.
That's why we need a government in Ontario with a real plan to make EVs affordable for the average Ontarian and develop a mining-to-manufacturing EV supply chain.
Ontario Greens will implement EV cash incentives of up to $10,000 for new vehicle purchases and $1,000 for e-bikes. And Greens will invest in sustainable mining so we can have a homegrown, made-in-Ontario EV supply chain that leads the new climate economy."
For more information on the Ontario Greens' Roadmap to Net-Zero climate plan: gpo.ca/climate.
-30-