For more information, please contact
Cecilia Stuart
Ontario Greens have a real plan to make EVs more affordable and accessible
March 16, 2022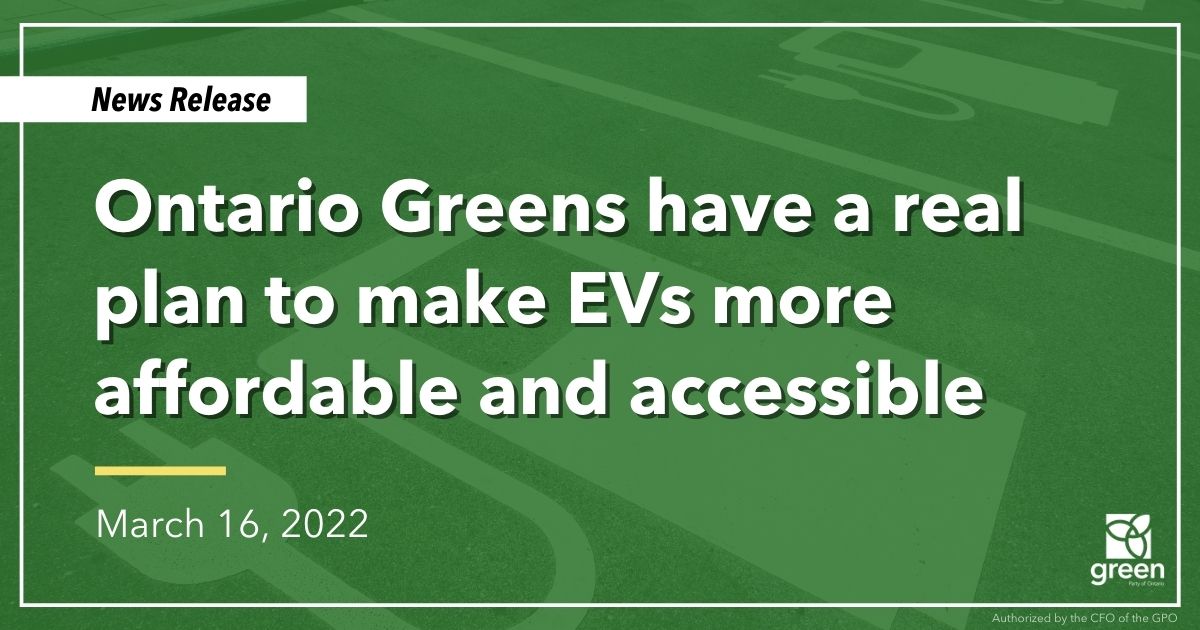 TORONTO — Doug Ford's refusal to make electric vehicles (EVs) more affordable and accessible is making the affordability and climate crises worse.
"We need to get big oil out of our pocketbooks and make life more affordable by helping people switch to electric and avoid sky high prices at the pumps," Ontario Greens Leader Mike Schreiner said.
With gas prices soaring to record highs, the affordability crunch is hitting Ontarians hard.
Ontario Greens will make driving electric more affordable and accessible for Ontarians by:
Making the upfront cost of EVs less expensive than fossil fuel vehicles, with cash incentives of up to $10,000 for buying a fully electric vehicle.
Making low-cost financing for EVs readily available so most Ontarians can benefit from the lower total cost of ownership that EVs provide.
Adopting a zero-emission vehicle mandate to ensure that a wide range of EVs are available for purchase in Ontario.
Significantly expanding charging infrastructure in both public and private settings, including parking lots, transit stations, highway rest stops and homes.
Ontario Greens are relieved Doug Ford is finally investing in EV manufacturing after years of Green pressure, even as his past hostility to EVs has hurt our economy.
"It's a Green win," Schreiner said. "Especially considering the Premier ripped charging stations out of the ground and cancelled EV incentives as soon as he took office.
"But without a real plan to make EVs more affordable and accessible, driving electric will remain out of reach for far too many Ontario families."
For more information: gpo.ca/climate/transportation
-30-