For more information, please contact
Cecilia Stuart
Ontario Greens will expand mental health and addictions care for people with disabilities
March 10, 2022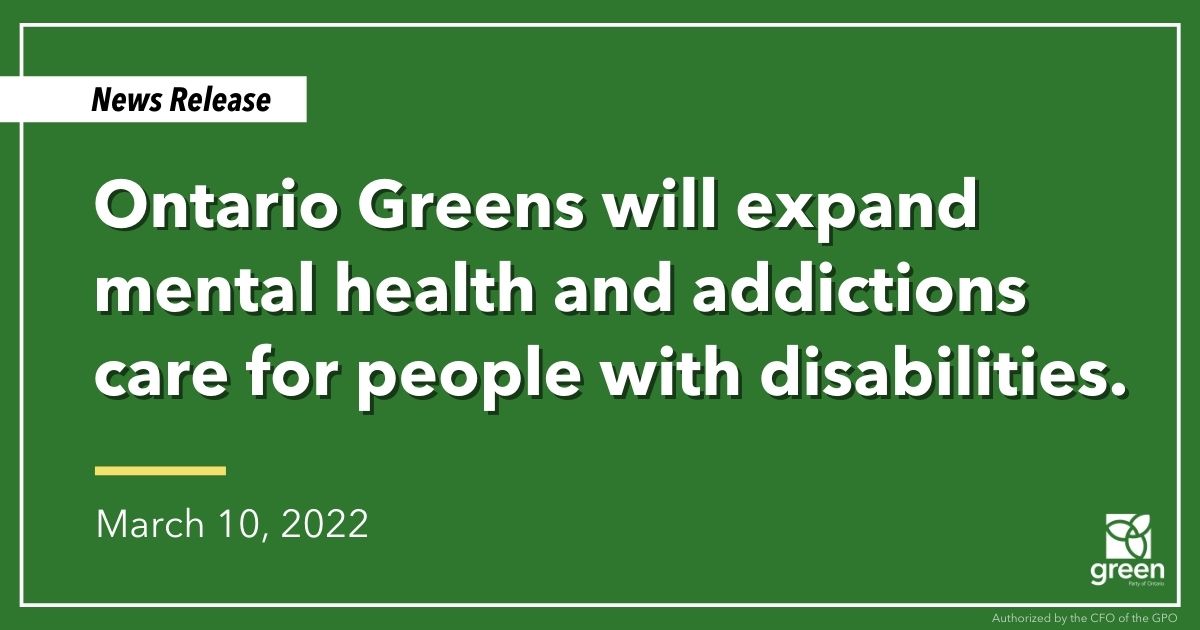 TORONTO — Ontario Greens Leader Mike Schreiner announced his party's plan to expand mental health and addictions care for people with disabilities today.
"There is a mental health crisis in Ontario and it's disproportionately impacting people with disabilities," Schreiner said at a virtual news conference this afternoon. "Ontario needs to do better."
A survey from the University of British Columbia showed that 82% of Canadians with disabilities said the pandemic is negatively impacting their mental health. Lockdowns cut off many people with disabilities from their support networks and worsened social isolation, while job and economic instability intensified pre-existing financial pressures.
"It's safe to say: everything is not okay for many Ontarians with disabilities."
Ontario Greens are fully committed to doubling Ontario Disability Support Program (ODSP) rates and making mental health care affordable and accessible for people with disabilities.

"If you have to choose between putting food on the table or putting a roof over your head, it comes as no surprise that the vast majority of people with disabilities are unable to afford mental health care," Schreiner said.
Schreiner was joined by Elizabeth McGuire, Chair of the Campaign for Adequate Welfare & Disability Benefits in Hamilton.
"I see it first hand through my work with the Campaign: living in poverty worsens mental health by its constant disruption of your life," McGuire said. "I applaud the Ontario Greens' plan to provide affordable and accessible mental health care for people with disabilities."
Please find the recording of the news conference here: https://www.youtube.com/watch?v=HpS848zDpv8&feature=youtu.be
For more information on the full Ontario Greens' mental health plan Building a More Caring Ontario: gpo.ca/mentalhealth
-30-