For more information, please contact
John Chenery
Michelle Petersen nominated as Ontario Greens candidate in Orléans
March 1, 2022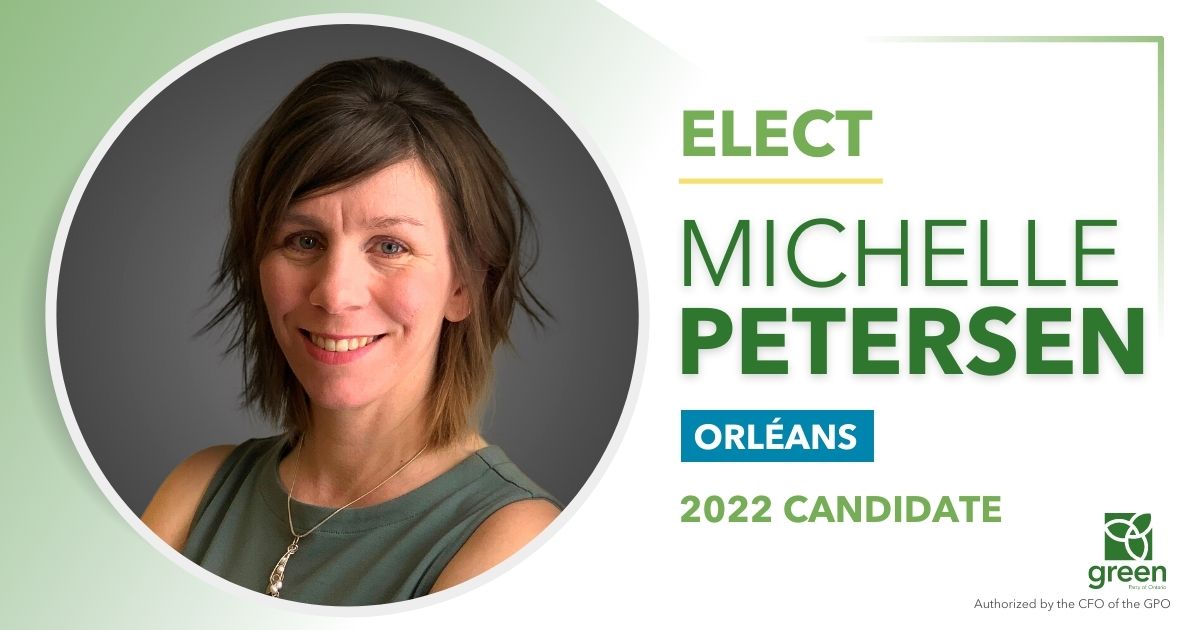 OTTAWA — The Green Party of Ontario is proud to announce that Michelle Petersen has been nominated as its candidate for Orléans ahead of the 2022 provincial election.
Petersen is a proud Franco-Ontarian and is invested in the preservation of French language services in the province. She has worked for over 20 years in community services in Ottawa in the areas of youth, mental health and women's services.
"The needs of Franco-Ontarians have been an afterthought at Queen's Park for too long," Petersen said. "I'm running to change that. We need representation that accurately reflects the diversity of our community."
"Michelle is a strong voice for Franco-Ontarians across the province and a passionate mental health advocate," said Ontario Greens Leader Mike Schreiner. "She understands what's needed to build a more equitable and caring Orléans and Ontario."
Petersen currently serves as the Director of Operations at Action ontarienne contre la violence faite aux femmes, the provincial umbrella organization for francophone and feminist services that support victims and survivors of violence.
Michelle Petersen sera candidate des Verts de l'Ontario à Orléans
OTTAWA — Le Parti vert de l'Ontario est fier d'annoncer que Michelle Petersen a été désignée comme candidate à Orléans avant les élections provinciales de 2022.
Mme Petersen est fière d'être franco-ontarienne et de promouvoir les services en français dans la province. Elle travaille depuis plus de 20 ans dans les services communautaires à Ottawa dans les domaines de la jeunesse, de la santé mentale et des services aux femmes.
« Les besoins des Franco-Ontariens font l'objet d'une réflexion après coup à Queen's Park depuis trop longtemps », déclare Mme Petersen. « Je me présente pour changer cela. Nous avons besoin d'une représentation qui reflète fidèlement la diversité de notre communauté. »
« Michelle est une porte-parole déterminée des Franco-Ontariens de toute la province et une défenseure passionnée de la santé mentale », a déclaré le chef des Verts de l'Ontario, Mike Schreiner. « Elle sait ce qu'il faut faire pour bâtir un Orléans et un Ontario plus équitables et plus bienveillants. »
Mme Petersen est actuellement directrice des opérations à Action ontarienne contre la violence faite aux femmes, l'organisme-cadre provincial pour les services francophones et féministes qui appuie les victimes et les survivantes de violence.
-30-