For more information, please contact
Cecilia Stuart
Ontario Greens statement on Halton Region vote to freeze urban boundary
February 17, 2022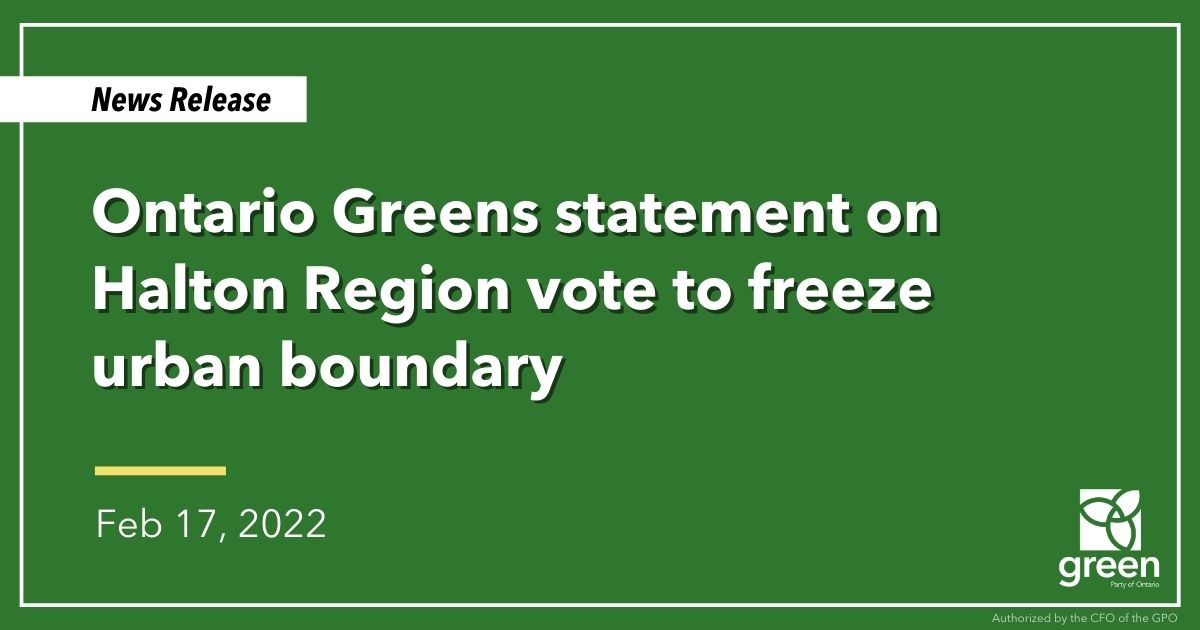 TORONTO — Ontario Greens are encouraged by Halton Region's decision to freeze its urban boundary until 2041.
"Congratulations to everyone who helped make this happen," Ontario Green Leader Mike Schreiner said. "We can address the housing affordability crisis while protecting the farmland that feeds us and the wetlands that protect us from flooding."
On January 26, Schreiner held a news conference alongside councillors Jane Fogal and Colin Best, calling on Halton to say no to a proposal to pave over 5,000 acres of prime agricultural farmland.
"We saw it recently with Hamilton, and now we see it with Halton: municipalities that say no to expensive sprawl," said Ontario Greens Deputy Leader and Environment and Climate Critic Dianne Saxe. "Urban sprawl does not solve the housing crisis. It ramps up climate pollution, destroys nature, increases the cost of living and locks families into long commutes in North America's worst congestion." Saxe helped to inspire anti-sprawl decisions in both Hamilton and Halton.
"No one wants to have an unaffordable lifestyle where they're forced to commute hours just to find an affordable place to live," Schreiner said. There are already 88,000 acres within existing urban boundaries in the Golden Horseshoe region alone available for development.
"We can make use of that existing space by building communities where people can live, work, play and shop. Livable and affordable communities that are better for our quality of life, health and wallets."
For more information on the Ontario Greens' housing strategy: gpo.ca/housing
-30-