For more information, please contact
Cecilia Stuart
Schreiner highlights how Ontario Greens' retrofit program will cut energy bills in Kitchener
February 16, 2022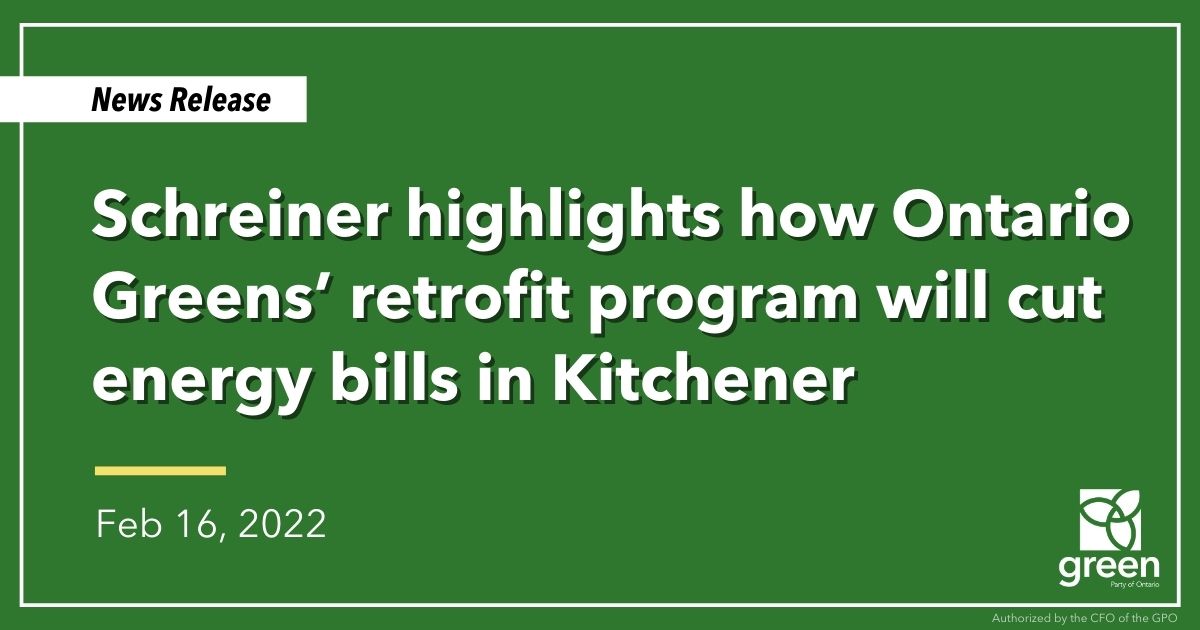 KITCHENER/CAMBRIDGE – Ontario Greens Leader Mike Schreiner was in Kitchener and Cambridge today with local candidate David Weber to meet with a local green building company and highlight how the Ontario Greens' retrofit and green building program will help Ontarians save big on their energy bills.
"Energy costs are rising in Kitchener and across Ontario," Schreiner said after meeting with Building Knowledge Canada, a green building business headquartered in Cambridge that is focused on improving the performance, durability, and energy efficiency of homes.
According to today's report from the Financial Accountability Office (FAO), energy prices have gone up by 4.3% since 2018.
"By making buildings more energy efficient, we can create better jobs, help people and businesses permanently cut their utility costs and crush climate pollution all at the same time. It's a win-win."
Ontario Greens will help Ontarians save on their energy bills by:
Creating incentives to retrofit 40% of existing homes and workplaces to net-zero by 2030 and 100% by 2040

Ensure income isn't a barrier to retrofitting by covering 100% of retrofit costs for social and low-income housing

Make energy-saving heat pumps available for consumers with no money down, zero-interest financing

Provide an Energy Efficient Home Renovation Tax Credit to incentivize and support retrofits
"I hear it every day from local residents: life is becoming more and more unaffordable," said candidate for Kitchener South—Hespeler David Weber. "Ontario Greens have a real plan to address the affordability challenges people in this community are facing."
For more information: gpo.ca/climate/energy
-30-