For more information, please contact
John Chenery
Ontario Greens will make it more affordable to drive electric
February 11, 2022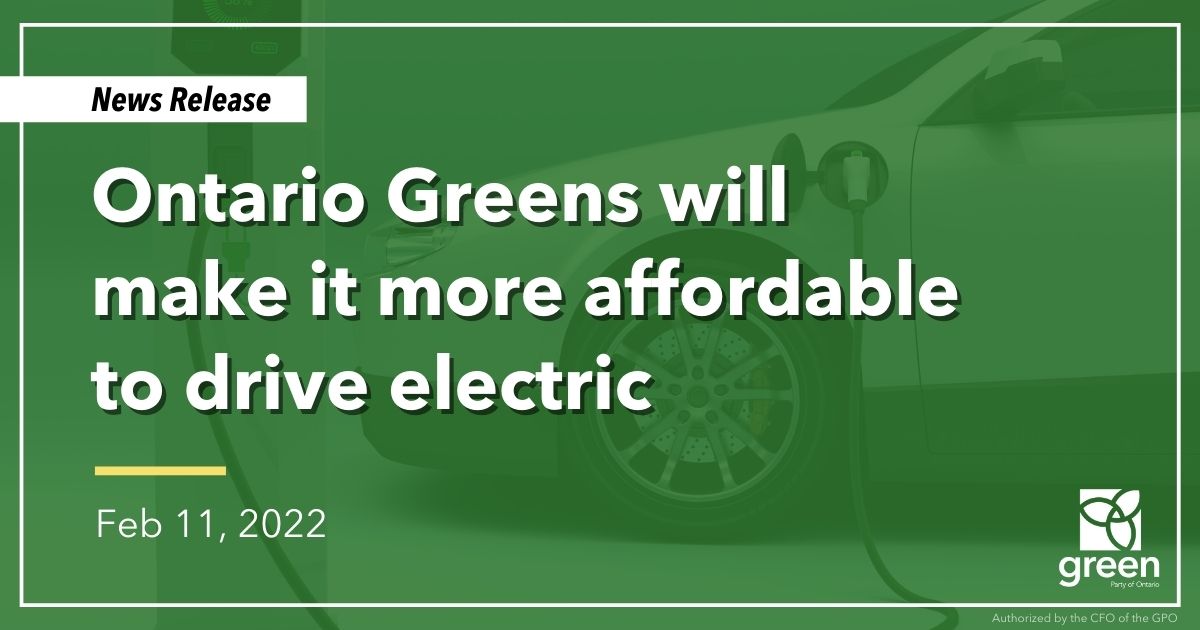 TORONTO — This morning, Ontario Greens Leader Mike Schreiner and Deputy Leader Dianne Saxe highlighted the party's plan to make new and used electric vehicles (EVs) more affordable and accessible amid record-high gas prices.
"Ontarians are getting gouged at the pump right now," Schreiner said. "And by making it easier to drive electric and getting big oil out of our wallets, we can make life more affordable."
Gas prices are soaring above $1.50/litre, meaning many Ontarians are paying over $100 to fill up their tank. But according to EV non-profit Plug'n Drive, charging an EV costs only around $2 – $5 at home, and approximately $12 – $14 at a level three public quick charge.
Ontario Greens will make driving electric more affordable and accessible for Ontarians by:
Making the upfront cost of EVs less expensive than fossil fuel vehicles, with cash incentives of up to $10,000 for buying a fully electric car.
Making low-cost financing for EVs readily available so most Ontarians can benefit from the lower total cost of ownership that EVs provide.
Adopting a zero-emission vehicle mandate to ensure that a wide range of EVs are available for purchase in Ontario.
Significantly expanding charging infrastructure in both public and private settings, including parking lots, transit stations, highway rest stops and homes.
"By investing in EVs, we will save people money, clean the air, improve health, and crush climate pollution," Ontario Greens Deputy Leader and candidate for University-Rosedale Dianne Saxe said. Instead, one of Doug Ford's first acts as Premier was to cancel EV incentives and rip chargers out of the ground.
"As Environmental Commissioner of Ontario, I told the public the truth about Doug Ford's attacks on clean air. It's high time to invest in a cleaner, more affordable Green future — instead of allowing Doug Ford to lock us into a dirty, expensive fossil fuel future."
Please find the full recording of today's news conference here: https://youtu.be/477Y-wHlOrw
-30-