For more information, please contact
John Chenery
Schreiner and Johnson call for regional transit plan to connect the Grand River Watershed
February 8, 2022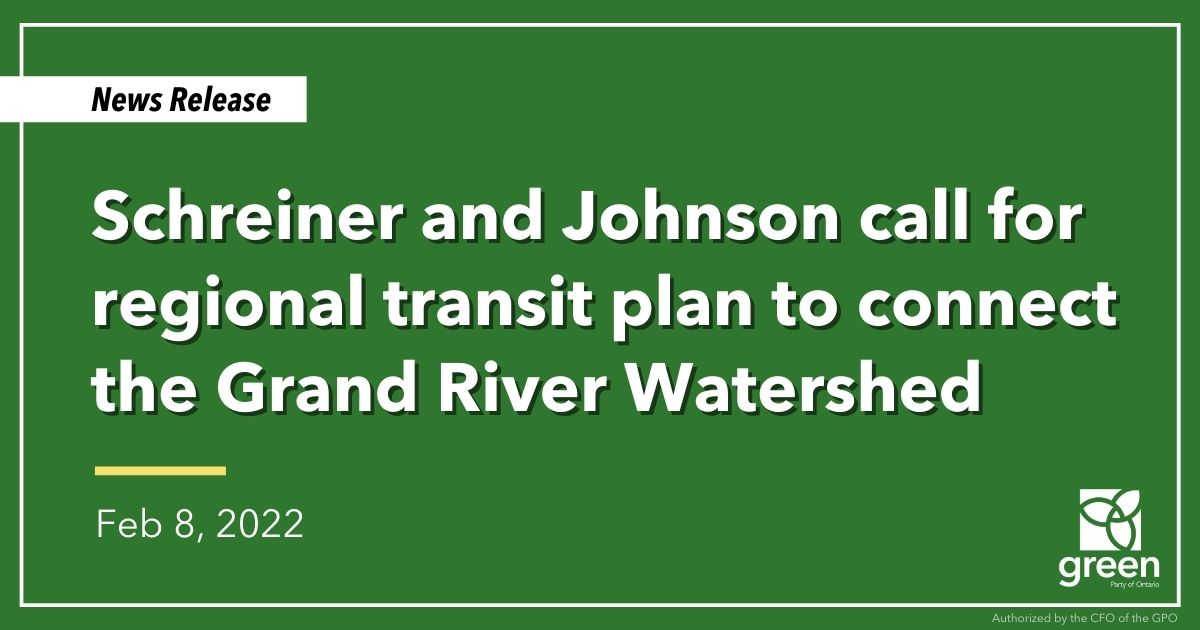 CAMBRIDGE – Ontario Greens Leader and MPP for Guelph Mike Schreiner joined Cambridge candidate Carla Johnson to highlight the party's plan for a regional transit system to connect the Grand River Watershed area (Cambridge/Brantford/Kitchener-Waterloo/Guelph).
"I hear it from locals every day, transit is a huge issue in this region," said Cambridge candidate Carla Johnson. "And after Greyhound shut down last May, the situation has gotten even worse."
Many Ontarians in the region, in particular students, the elderly or lower-income individuals, relied on Greyhound to get between communities and cities. And its shutdown exposed the massive transit gaps in the region.
"This region is expected to be home to over 1 million people by 2030. Yet there's no affordable and efficient way to get between Cambridge, Guelph, Kitchener-Waterloo and Brantford," Johnson said.
"Affordable and accessible transit is absolutely vital to making our communities more livable, connected and affordable," Schreiner said. "Doug Ford thinks the solution to transportation is more highways. He's wrong. More highways will make life even more expensive and increase climate pollution."
Ontario Greens will make regional transit in the Grand river watershed and Ontario a reality by:
Working with municipalities to implement affordable regional transit between Cambridge, Guelph, Kitchener-Waterloo and Brantford

Restoring the 50% provincial cost-share for transit operations to help municipalities fund regional transit

Reallocating the billions of dollars planned for highways like Highway 413 towards affordable, accessible, electrified transit
You can find out more about the Ontario Greens' plan for sustainable transportation and transit at www.gpo.ca/climate/transportation.
-30-