For more information, please contact
Cecilia Stuart
Schreiner meets with local Ottawa small business associations and calls for urgent government support
February 2, 2022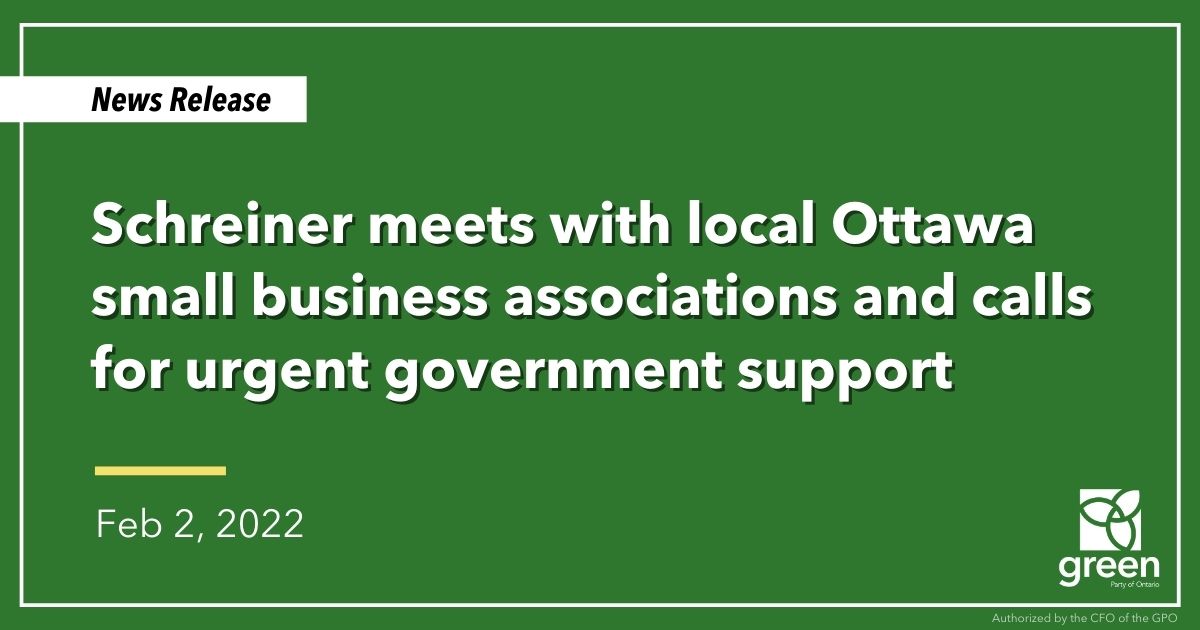 OTTAWA — This week, Ontario Greens leader Mike Schreiner met with a number of Ottawa organizations representing local businesses, including Ottawa Chinatown BIA, Stittsville Business Association and the Ottawa Board of Trade.
"The message from Ottawa business groups is loud and clear: many local small businesses are struggling and desperately need government support", said Schreiner. "And the ongoing disruptions from the trucker convoy are making things even worse for already cash-strapped owners."
Ottawa businesses were supposed to reopen this week, but the chaos caused by the trucker convoy has forced many in the downtown core to remain closed.
Local businesses also highlighted the need for support programs to be more accessible and user friendly. "A lot of local mom and pop shops don't have experience navigating the complex bureaucracy, " Schreiner said. "Small business owners have been put through the wringer the past two years. The last thing they need is a grant application process that is messy and confusing."
To support small businesses in Ottawa, Ontario Greens are calling on Doug Ford to:
Provide immediate financial assistance to the small businesses in downtown Ottawa that are forced to remain closed due to the disruption of the truckers convoy
Immediately expand eligibility for the new Ontario COVID-19 Small Business Relief Grant to all impacted businesses, even if they're not fully closed
Add another round of funding for February, given that many sectors will not reach 100% capacity until the end of the month
Increase the amount of the staycation tax credit and expand it to include dining at restaurants
Provide additional sector-specific support for small business sectors that have been hardest hit, such as gyms and indoor dining
-30-