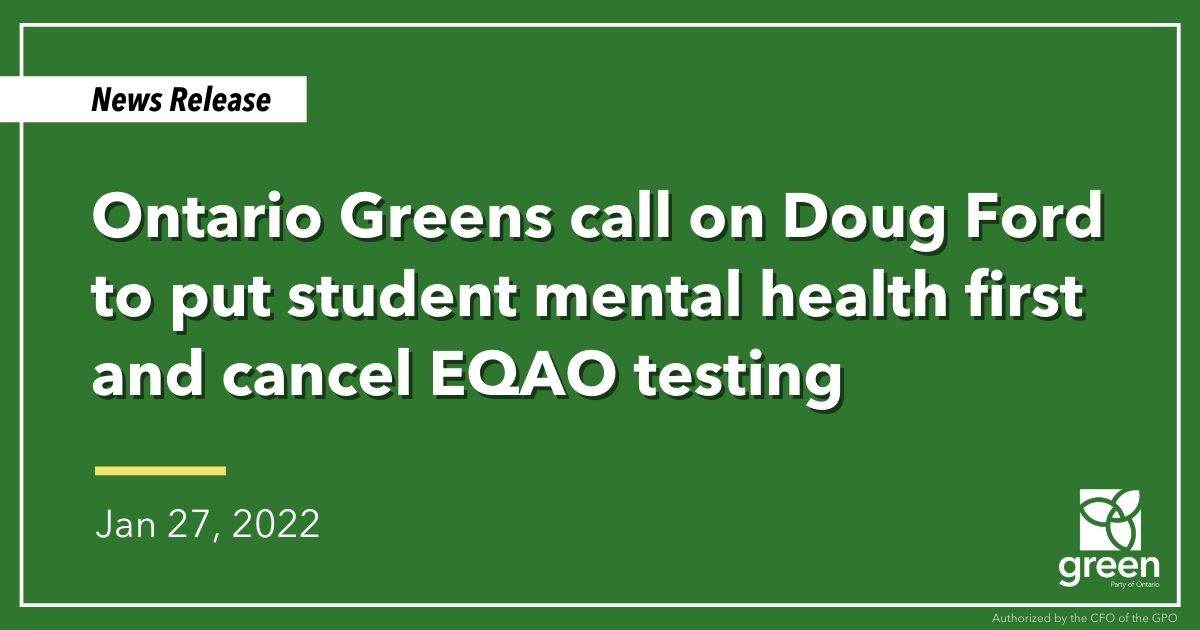 TORONTO — Ontario Greens are calling for an end to the wasteful and time-consuming EQAO tests.
"It's time to walk the talk when it comes to student mental health," said Matt Richter, Ontario Greens Education Critic and candidate for Parry Sound — Muskoka.
"As a teacher, I see how stressed and anxious many students are after two years of uncertain back and forth between online and in-person learning. It's been incredibly disruptive. The last thing they needed added to their plates right now is the enormous pressure that comes with the EQAO testing process."
Ontario Greens have long called for an end to EQAO testing. The tests cost taxpayers over $30 million a year to administer and are an unnecessary duplication of testing that already exists.
"Instead of wasting $30 million on an unnecessary test, let's invest in making our schools safer and ensuring all students have access to mental health services," Ontario Greens Leader Mike Schreiner said.
"The EQAO tests are not revealing anything that teachers don't already know about their students. This is a clear case of where time and money can be better spent to benefit our students and teachers."
"Testing, assessing, and evaluating are all crucial to the educational process," Richter added. "But teachers already conduct extensive testing and reporting throughout the year. And school boards already administer in-depth reading, writing, and math assessments."
Let's not waste anymore time and money and get to work on helping students bounce back. Doug Ford needs to cancel the EQAO test.