For more information, please contact
John Chenery
Mike Schreiner calls on Halton to say no to urban sprawl
January 26, 2022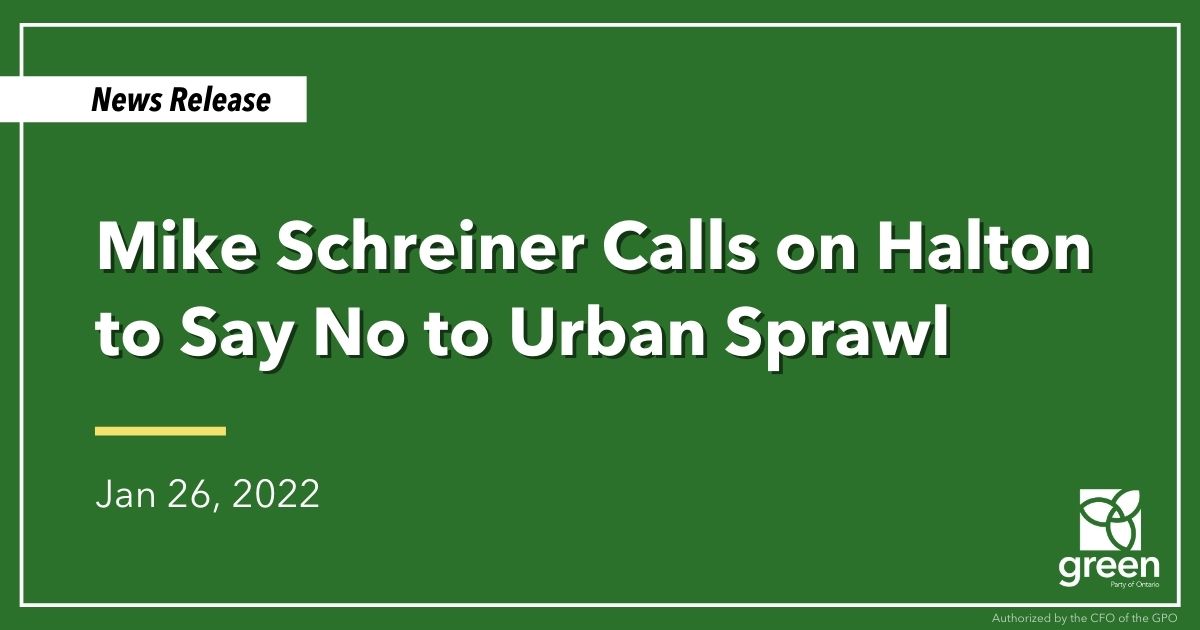 HALTON — This morning, Ontario Greens leader Mike Schreiner held a virtual news conference to call on Halton to say no to a proposal to pave over 5,000 acres of prime agricultural farmland.
"Urban sprawl is not the solution to the housing crisis,' Schreiner said. "It's expensive, terrible for the environment, and destroys farmland and wetlands. No one wants to have an unaffordable lifestyle where they're forced to commute hours just to find an affordable place to live."
Ontario Greens have a plan to increase housing supply and protect the farmland in Halton and Ontario by:
Freezing urban boundaries and permanently protect prime farmland
Reversing the Ford government's changes to the Growth Plan that encourage sprawl and destroy the province's natural environment
Significantly increasing housing supply through infill development by expanding zoning options to give people more housing choices
Cancelling Highway 413, which will supercharge sprawl and climate pollution
Schreiner was joined by Halton Region Councillors Jane Fogal and Colin Best, two of the leading voices against urban sprawl in the region.
"Doug Ford is forcing municipalities into endless urban sprawl with his changes to the Growth Plan, which favours land speculators over people and the environment," Fogal said.
Colin Best, councillor for Milton, highlighted that Milton already has "hundreds of hectares that can still be used for infill developments to build walkable, accessible and affordable housing close to transit rather than sprawling out."
Please find the full recording of today's news conference here: https://youtu.be/95SU6jpRWzE
-30-