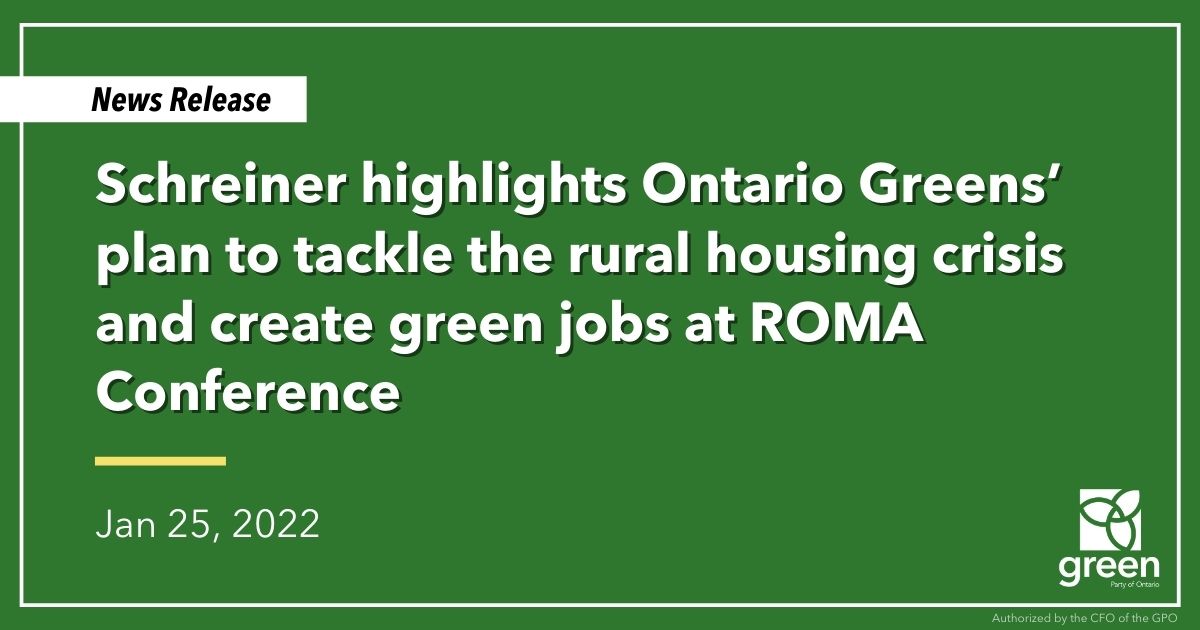 Please find full transcript of the speech attached as a PDF and full recording of the speech here: https://youtu.be/xorrCKkJBB8

TORONTO — This afternoon, Ontario Greens leader Mike Schreiner virtually addressed the participants of the 2022 Rural Ontario Municipal Association (ROMA) Conference. Focusing on the housing crisis which is at a breaking point in many rural communities, Schreiner contrasted Doug Ford's unaffordable urban sprawl agenda with the Ontario Greens' plan to build livable and affordable communities.
"The road to recovery should not pave over the farmland that feeds us and the wetlands that clean our water and protect us from flooding," he said. "It's bad for the environment, people's health and their wallets. It increases costs for municipalities and makes infrastructure more expensive."
Ontario Greens plan to invest aggressively in expanding housing affordability within existing urban boundaries by building 100,000 affordable rental units and 60,000 permanent supportive housing spaces.
Schreiner also pledged his commitment to help rural municipalities deal with the impacts of climate change with a $2 billion-a-year Climate Adaptation Fund.
"Rural communities are on the frontlines of the climate crisis," he said, pointing to examples of climate-induced extreme weather events such as flooding along the Great Lakes and droughts affecting farmers. "The Ontario Greens are here to be a partner in making your communities safer and more climate resilient."
Schreiner concluded by highlighting the potential of the green economy. "We can create new careers and better jobs for rural Ontarians as we make Ontario a cleantech giant in the fastest growing sectors of the global economy," he said.
"But to make that a reality we need a government that takes the climate crisis seriously and understands the prosperity generated by the green economy."