For more information, please contact
Cecilia Stuart
Schreiner calls for a 10 day COVID-19 isolation period and 10 paid sick days to protect workers
January 21, 2022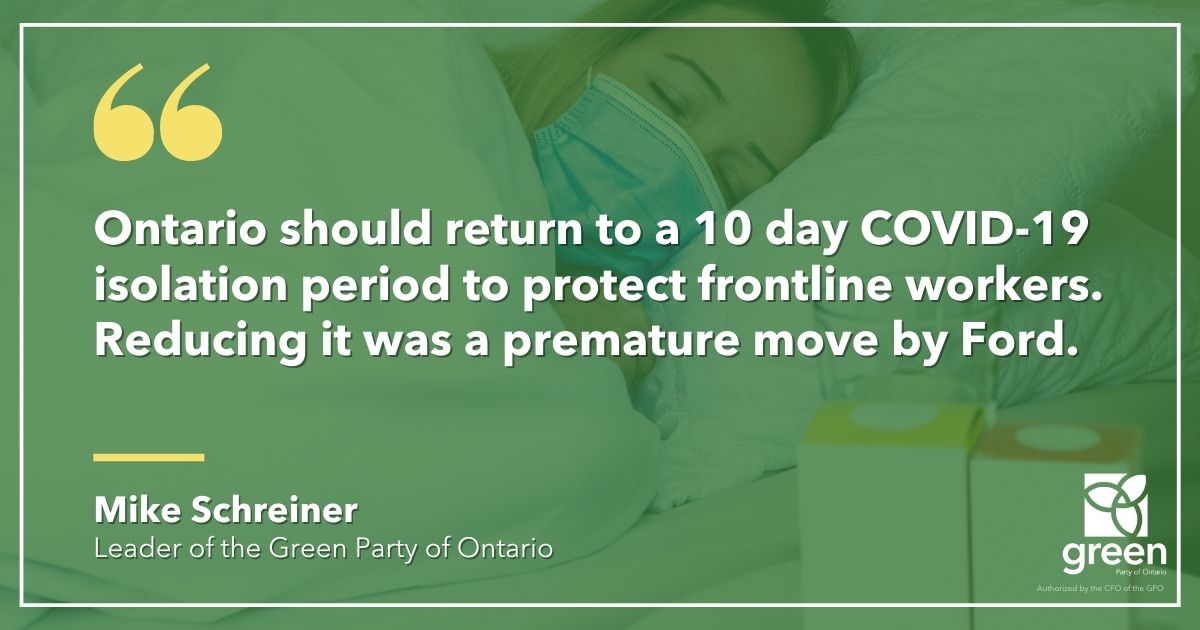 TORONTO — Mike Schreiner made the following statement on COVID-19 isolation periods and paid sick days
TORONTO — Mike Schreiner made the following statement on COVID-19 isolation periods and paid sick days:
"Ontario should return to a 10 day COVID-19 isolation period to protect frontline workers. Reducing it was a premature move by Ford.
Recent studies show that the Omicron variant can be infectious for 10 days like other variants of COVID-19.
The challenge is that workers could be forced back to work after 5 days while they still may be contagious — especially given the inaccessibility to testing. With reduced isolation periods, testing and tracing and N95 masks become more crucial.
But Ford is doing the opposite by cutting access to testing and dragging his heels on getting N95 masks to frontline workers and students.
Leading experts like Dr. Colin Furness, an epidemiologist at the University of Toronto, are clear that a 5 day isolation period will increase the risk of outbreak at workplaces, which would only make staffing shortages worse. 
As Ontario starts to reopen, the Ford government needs to do everything possible to protect workers.
And that means providing 10 fully funded paid sick days so workers don't have to choose between their health and their paycheque, and increasing the isolation period back to 10 days.
This is vital to reduce pressure on our healthcare system and avoid future lockdowns."
-30-