For more information, please contact
Cecilia Stuart
Christian Proulx nominated as Ontario Green candidate in Ottawa-Vanier
January 17, 2022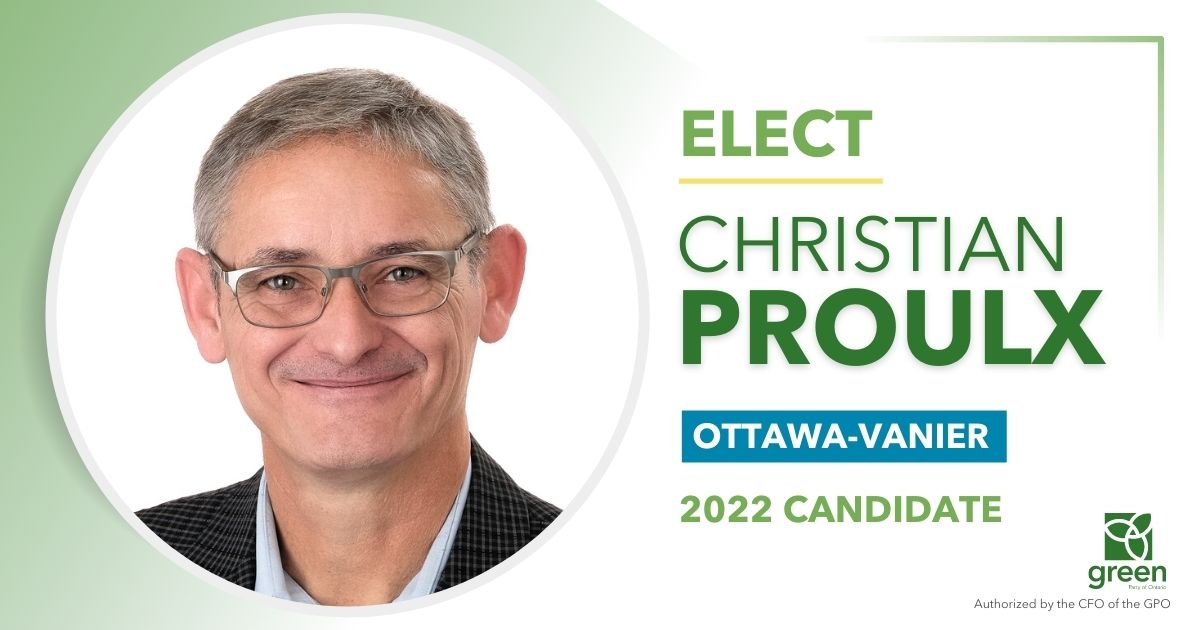 OTTAWA — The Green Party of Ontario is proud to announce that Christian Proulx has been nominated as its candidate for the Ottawa-Vanier riding ahead of the 2022 provincial election.
Proulx is passionate about climate action and is committed to building more sustainable and inclusive communities.
"I'm deeply concerned about the climate crisis and the direction the current government is taking Ontario in," Proulx said.
"We need a government that treats climate change as the emergency it is. And I appreciate that Ontario Greens actively try to work across party lines to implement positive change, as Mike Schreiner has done."
"Christian is an active member of his community in Ottawa-Vanier," said Leader of the Ontario Greens Mike Schreiner said. "He has a strong vision for how to make his community and Ontario a more green and caring place to live. I'm excited to work with him so we can put those ideas into action at Queen's Park."
"We can turn Ottawa-Vanier into a community focused on sustainability," Proulx stated. "We can build safe, walkable and complete neighbourhoods, full of affordable and balanced housing, improved public transit and bicycle networks, and thriving local businesses."
Born and raised in Ottawa-Vanier, Proulx is an active community volunteer and has devoted his time to many local initiatives such as the La guignolée, the Orléans Santa Claus Parade of Lights and as a hockey coach.
Proulx is an experienced tradesman and is a licensed plumber, steamfitter, oil and gas fitter and site supervisor.
-30-