For more information, please contact
Cecilia Stuart
Nurses should be paid for vaccine clinic work
December 20, 2021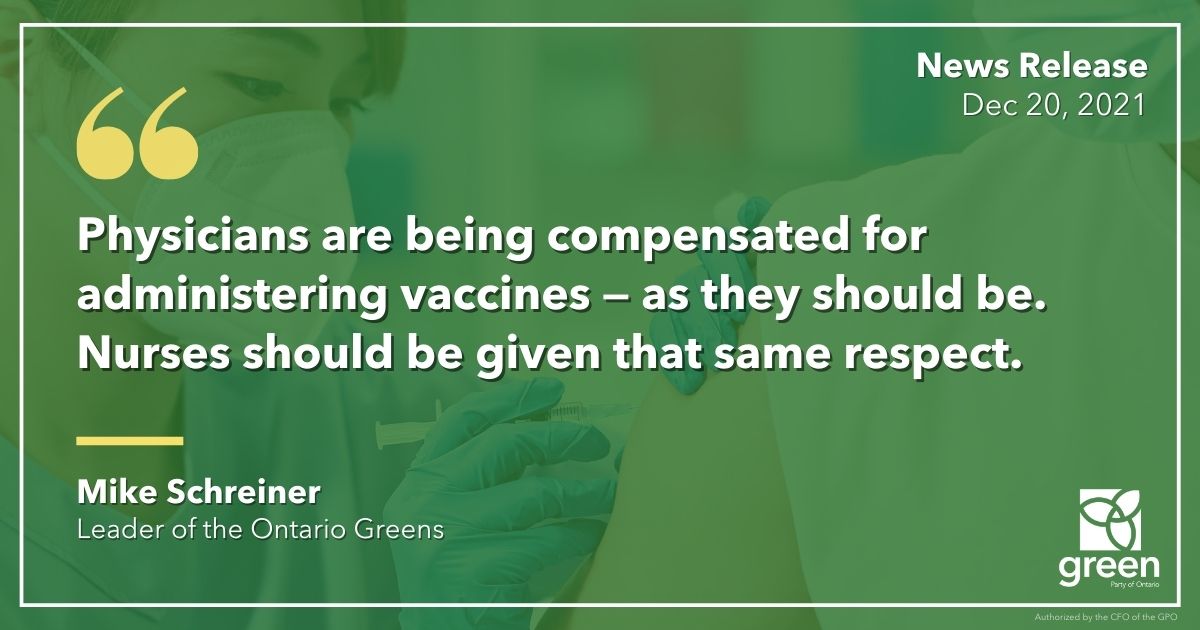 TORONTO — Mike Schreiner made the following statement regarding nurses and vaccine clinics
TORONTO — Mike Schreiner made the following statement regarding nurses and vaccine clinics:
"It is disrespectful that the Premier has the audacity to ask nurses to volunteer at vaccine clinics after all they have been through these past two years.
It's another slap in the face to the health-care heroes that have been treated so poorly by this government.
Physicians are being compensated for administering vaccines — as they should be. Nurses should be given that same respect.
Nurses are the backbone of Ontario's COVID-19 response.
Yet throughout the pandemic, their well-being has been at the bottom of the priority list for the Ford government. Doug Ford has repeatedly failed to support nurses — whether it's with Bill 124 that caps nurses' pay, or with the delay to provide proper PPE like N95 masks to keep nurses safe.
This is the final straw for a lot of nurses who feel like this government has abandoned them.
There's a reason so many nurses are leaving the profession. Pay is low and working conditions are poor. Many are burnt out.
Nurses deserve better.
I'm calling on Doug Ford to stop treating nurses as an afterthought and give them the pay raise and support they deserve. Compensating them fairly for their work at vaccine clinics would be a start."
-30-