For more information, please contact
Cecilia Stuart
Schreiner calls for westward expansion of Greenbelt, including Paris Galt Moraine
December 14, 2021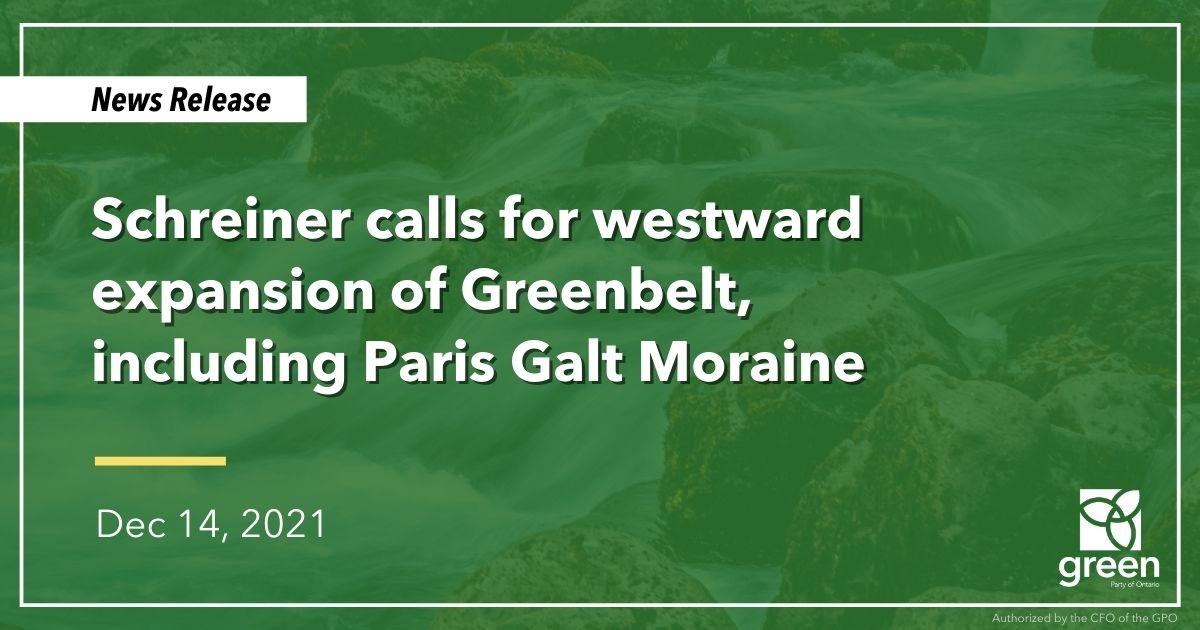 GUELPH — MPP for Guelph and Ontario Green Leader Mike Schreiner joined the Greenbelt West Coalition this morning to call for a westward expansion of the Greenbelt, including the Paris Galt Moraine.
"Water is essential for life," Schreiner said. "And government has a sacred duty to protect water as a public good, especially as the climate emergency worsens."
In 2019, Mike Schreiner put forward pivotal legislation (the Paris Galt Moraine Conservation Act) at Queen's Park to protect the Paris Galt Moraine. Schreiner recently retabled this legislation.
"I've heard from the people of Guelph loud and clear: protecting water and the Paris Galt Moraine is a top priority," Schreiner said.
"That's why I support The Greenbelt West Coalition's calls for westward expansion of the Greenbelt, including the Paris Galt Moraine and beyond. We desperately need Greenbelt expansion across Ontario to protect water."
The calls to expand the Greenbelt are especially important given the current government's systematic attack on water and environmental protections in Ontario.
As part of the Roadmap to Net-Zero climate plan, Ontario Greens will restore and protect water and nature by:
Working with Indigenous communities to protect 25% of Ontario by 2025 and 30% by 2030
Strengthening and funding Conservation Authorities
Earmarking at least 15% of infrastructure spending for green infrastructure — meaning living plants and soil, not concrete
Stamping out urban sprawl and building livable and affordable communities through infill and gentle density instead
"We can't keep paving over paradise," Schreiner said.
Schreiner additionally called for the permanent protection of prime farmland and wetlands. He noted that Ontario is losing farmland at the rate of five family farms per week, and that southern Ontario has already lost 75% of its wetlands — primarily due to urban sprawl.
Schreiner was also joined by MPP Sandy Shaw from the Ontario NDP and MPP Stephen Blais from the Ontario Liberals.
-30-