For more information, please contact
John Chenery
Kristopher Rivard nominated as Ontario Green candidate in Timiskaming–Cochrane
December 14, 2021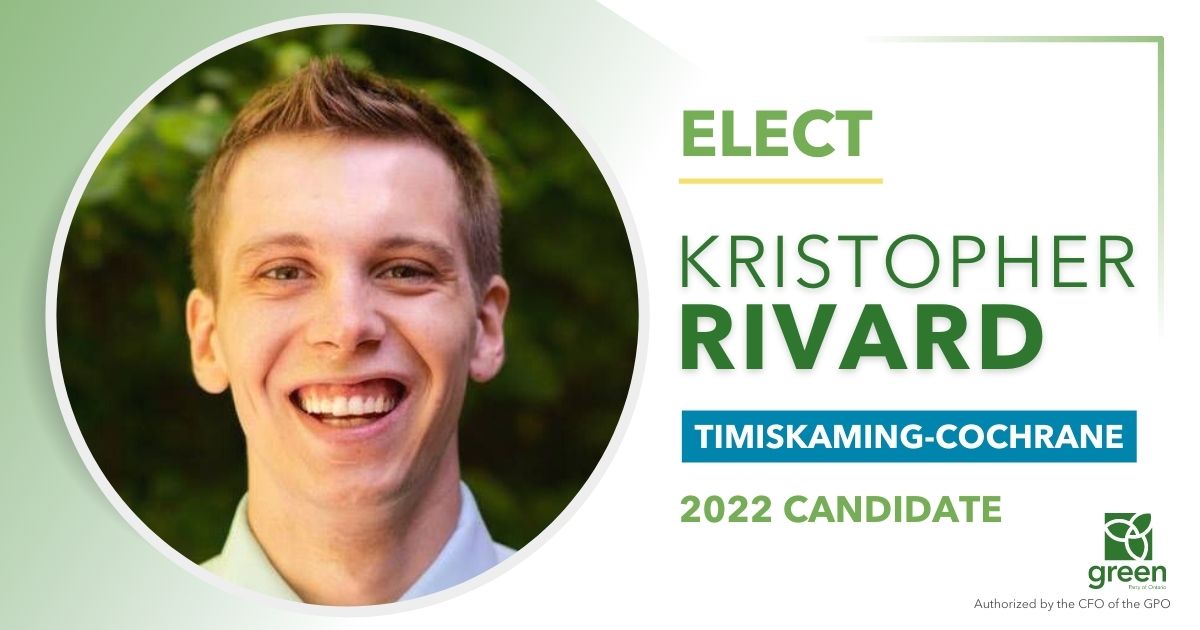 TIMISKAMING-COCHRANE — The Green Party of Ontario is proud to announce that Kristopher Rivard has been nominated as its candidate for the Timiskaming–Cochrane riding ahead of the 2022 provincial election.
Rivard's lifelong passion and interest in the environment and sustainability inspired him to run for the Ontario Greens.
"The values of the Ontario Greens closely align with my own, particularly on green jobs, clean energy, sustainable development and housing affordability," Rivard said. "Ontario Greens have a real plan for real action to protect people and the planet. And a real plan to make our communities better."
Rivard is also passionate about getting more youth involved in politics.
"As a young person, I realize that the status quo does not work for everyone. I believe that my generation needs to get involved in politics in order to bring about change to improve the lives of all Ontarians and protect our environment."
"Young Ontarians are on the frontlines of the climate and housing crises," Ontario Greens Leader Mike Schreiner said. "It's their generation that's being impacted the most — and they want and deserve change. It is such a pleasure and honour to have someone so energetic and inspiring like Kris represent Green values in the North."
Rivard currently works with the North Bay Mattawa Conservation Authority as a Septic Inspector.
He is a former student of Canadore College in North Bay, where he completed a post-graduate certificate in Environmental Management in 2018. He also previously received a B.A. in Geography from Laurentian University.
Rivard is an active member of his community and an outdoors enthusiast. He is involved in the Sturgeon Falls Beautification Committee and is the co-founder of the West Nipissing Green Initiative. He is fluently bilingual.
-30-