For more information, please contact
Cecilia Stuart
Ontario Greens collaborate on historic legislation to mark August as Emancipation Month
December 8, 2021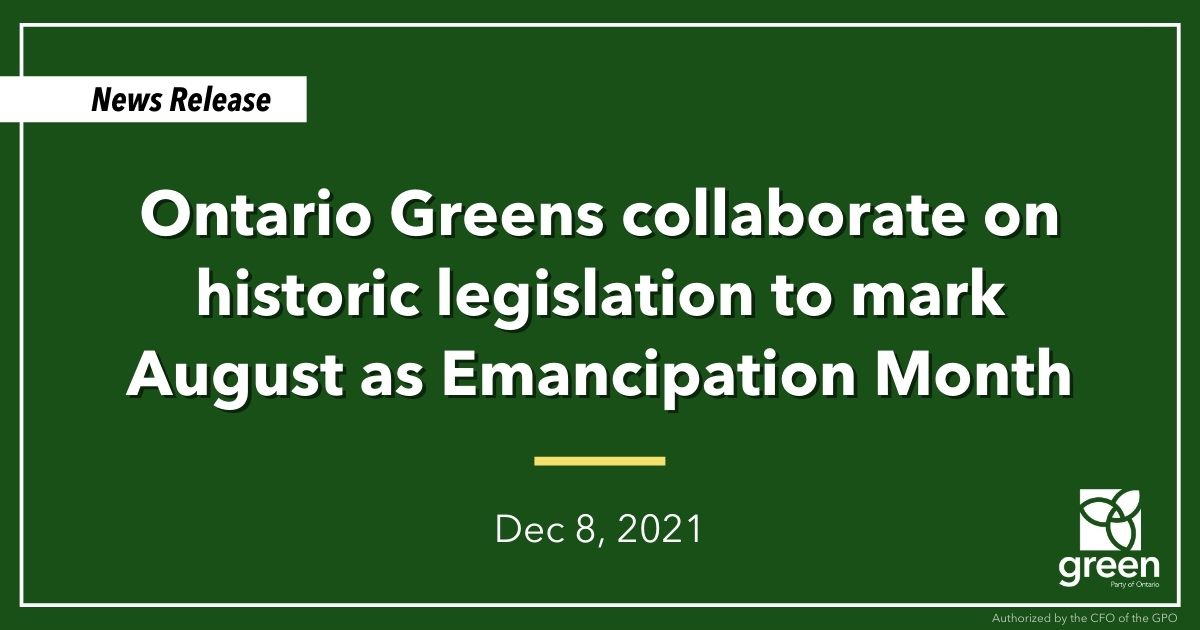 QUEEN'S PARK — Today, Mike Schreiner applauded the collaboration among all parties in the House that led to the passage of the Emancipation Month Act in the Ontario legislature. The bill officially proclaims the month of August each year as Emancipation Month and was passed with all-party support this evening.
Schreiner tabled the bill along with MPP Mitzie Hunter from the Liberals, MPP Laura Mae Lindo from the NDP and MPP Andrea Khanjin from the PCs.
"Some things are bigger than politics," Schreiner said. "We are committed to building a more inclusive province, where everyone is treated with fairness, respect, dignity and justice.
"And we're willing to work across party lines to make that happen."
The Emancipation Month Act is the first-ever bill co-sponsored by all four parties.
"The idea for this bill was brought to me by Dewitt Lee, the founder of Emancipation Month Canada," Schreiner said. "Dewitt expressed the need to observe an entire month to learn about the freedom fighters that fought for this important moment in history. And the need to grant time and safe spaces to recover and repair relationships for those communities affected by the legacy of slavery and racism.
"And I wholeheartedly agree with him."
Emancipation Month Canada was founded as a legacy project of the United Nations declaration of the International Decade of People of African Descent. August was specifically chosen as the month in recognition of the Slavery Abolition Act which received Royal Assent in August, 1833 and took effect on August 1, 1834.
"We know that the intergenerational trauma of slavery and systemic racism persists today," Schreiner said. "It's baked into our systems and institutions, from politics to education to housing and health care."
Emancipation Month is a time for healing, unification and restoration. It is about eliminating discrimination by continuing to educate and advance the importance of racial equity across the province.
Schreiner hopes that by committing to recognizing Emancipation Month, the Ontario government will also commit to tangible action to tackle anti-Black racism.
"It should be more than a symbol," he said.
"It should be a duty imposed on all governments to commit to addressing the social, economic, institutional, and systemic biases that people of African descent experience in their communities on a daily basis."
-30-