For more information, please contact
Cecilia Stuart
Doug Ford's anti-climate agenda will hurt Ontarians' wallets
December 7, 2021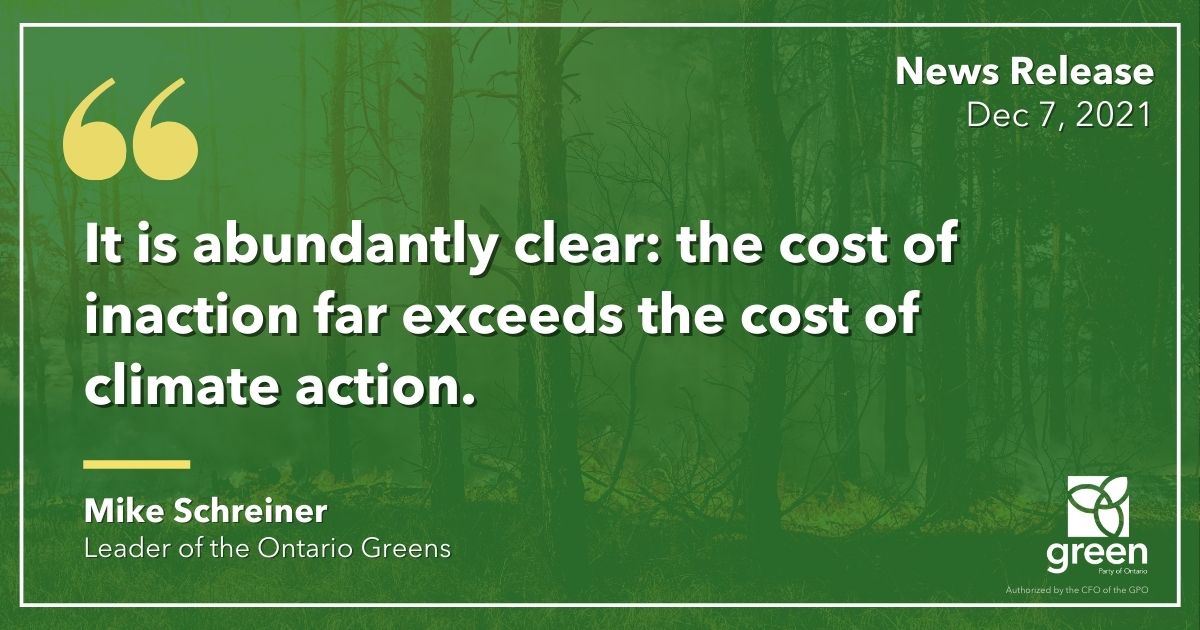 QUEEN'S PARK — Mike Schreiner made the following statement in response to this morning's new FAO report on the costs of climate change, which he requested in 2019:
"Doug Ford is not only taking us backwards on climate action and harming our environment, but his policies are also hurting taxpayers' wallets.
Ontario Greens called for this report in 2019 to bring forward transparency about the financial costs of the climate emergency in Ontario.
We need to be honest with Ontarians about the costs of the climate crisis. And we need to be honest about what it's going to take to deal with it.
It is abundantly clear: the cost of inaction far exceeds the cost of climate action.
Climate change is nature's tax on everything.

The FAO estimates the impact of extreme rainfall and heat will cost an additional $6 billion to maintain public buildings and facilities over the rest of the decade. But Doug Ford would rather pump $6 billion into Highway 413, which will supercharge sprawl and emissions and make the climate crisis even worse.
Unlike the other parties, Ontario Greens have an honest and ambitious plan.
Successive Liberal, NDP and PC governments have relied on half measures on climate. Empty promises to garner headlines will not solve the problem.
Ontario Greens have a real plan for real climate action.
We'll create a $2 billion per-year Climate Adaptation Fund to prepare municipal and provincial infrastructure to withstand our changing climate.
We'll invest in nature-based solutions to protect people, and allocate at least 15% of infrastructure spending to natural ecosystem features, like rivers, native plants and soil.
And we'll work with Indigenous communities to conserve and protect at least 25% of Ontario by 2025, and 30% by 2030.
Climate change is making our lives more costly and less affordable. We can't talk about the issue of affordability without committing to real action on climate.
Today's report is more than a wake up call. The alarm has been ringing for decades.
Instead of turning a blind eye to the costs of the climate crisis, Ontario Greens will lead the way on action to crush climate pollution and adapt to a changing climate.
Because that's the leadership Ontarians deserve."
-30-