For more information, please contact
John Chenery
Schreiner calls on Doug Ford to immediately repeal Bill 124
December 6, 2021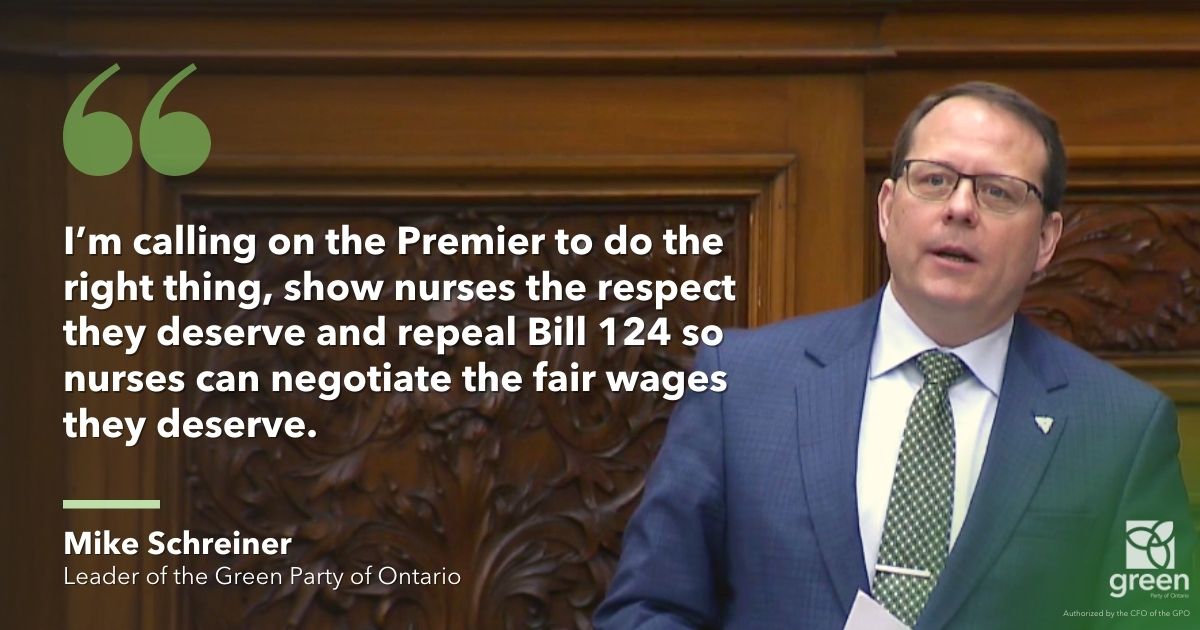 TORONTO — Mike Schreiner rose in the House and called on the Ford government to immediately repeal Bill 124
QUEEN'S PARK — Mike Schreiner rose in the House and called on the Ford government to immediately repeal Bill 124:
"Nurses are at a breaking point. They're overworked, underpaid, and under-appreciated.
The Ontario Nurses' Association says hospitals face an 18 to 20 percent nursing vacancy rate.
ICUs are at reduced capacity because we don't have nurses to staff them.
And the surgery backlog is worsening.
That's why I put forward a comprehensive plan to retain and recruit nurses. It starts by paying nurses a fair wage.
It's a slap in the face to nurses for the Premier to call them heroes and then make it illegal for them to negotiate a fair wage.
On November 14, the RNAO pleaded with the government to repeal Bill 124 within 30 days. Yet they have still heard nothing from this government.
The clock is ticking.
I'm calling on the Premier to do the right thing, show nurses the respect they deserve and repeal Bill 124 so nurses can negotiate the fair wages they deserve."
-30-