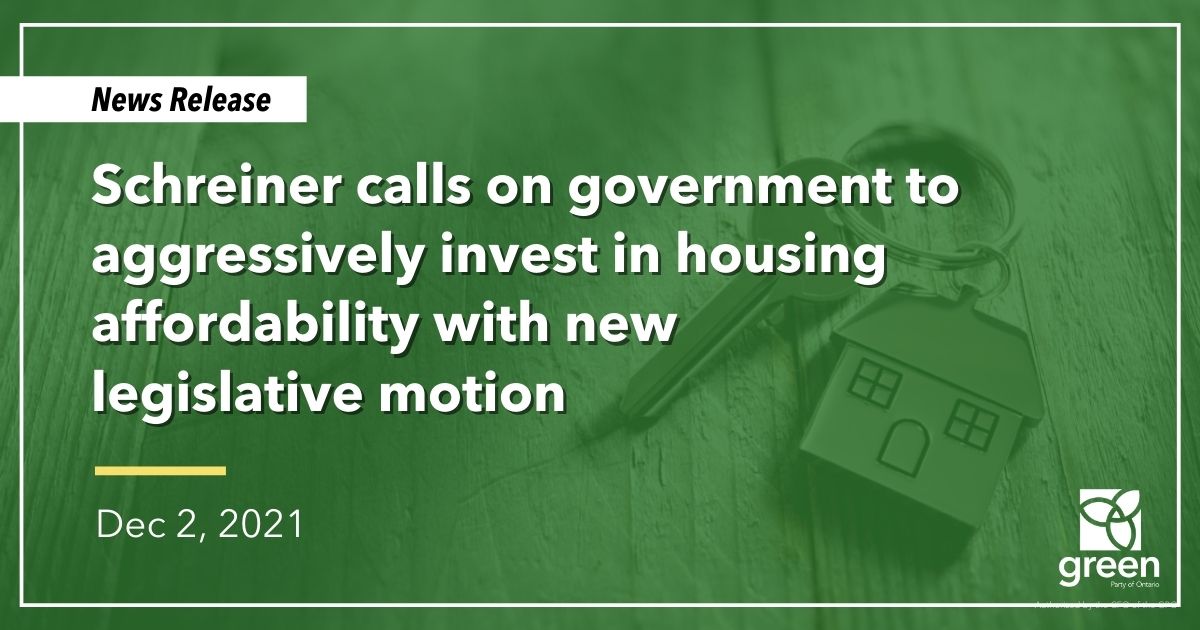 QUEEN'S PARK – Ontario Green Leader Mike Schreiner introduced a new motion at Queen's Park this morning, calling on the Ford government to immediately address the housing crisis.
"Ontario is neck-deep in a housing affordability crisis," Schreiner said. "It's at a breaking point, And it's only getting worse."
Housing costs across Ontario continue to skyrocket. In Toronto, for example, over half of the city's population is unable to afford a one bedroom apartment on their own. And to save for a downpayment on a house takes the average Ontarian 15 years.
According to yesterday's Auditor General report, about 9,600 Ontarians experience 'visible' homelessness each night. Throughout the year, that number jumps to 90,000. In reality the number of Ontarians experiencing homelessness is much higher, as 80% experience 'hidden' homelessness, sleeping in abandoned buildings or camping under bridges and in remote locations.
Schreiner's new motion calls on the government to immediately and aggressively invest in affordable rental housing and attainable home ownership opportunities, by:
Building 100,000 new permanently affordable rental homes
Extending financial supports to 311,000 Ontarians for housing costs
Building 60,000 permanent supportive housing units accompanied by wrap-around supports
Creating a $100M seed fund for co-operative housing
Taking every opportunity to lease publicly owned land to nonprofits, co-ops and other housing providers for permanently affordable housing and attainable home ownership opportunities
Expanding inclusionary zoning to apply to all new housing projects
"Everyone deserves an affordable place to call home," Schreiner said.
"The status quo is not sustainable or right. And it has to change. Housing costs and rent continue to go through the roof as the government sits idly by."
Schreiner concluded his remarks by calling on the government and opposition parties to vote in favour of the Ontario Greens motion in the legislature.
"This is what a real plan for real action on housing looks like," Schreiner said.
"So let's get to work and start implementing it."