For more information, please contact
John Chenery
Doug Ford shortchanging Ontarians and municipalities
November 29, 2021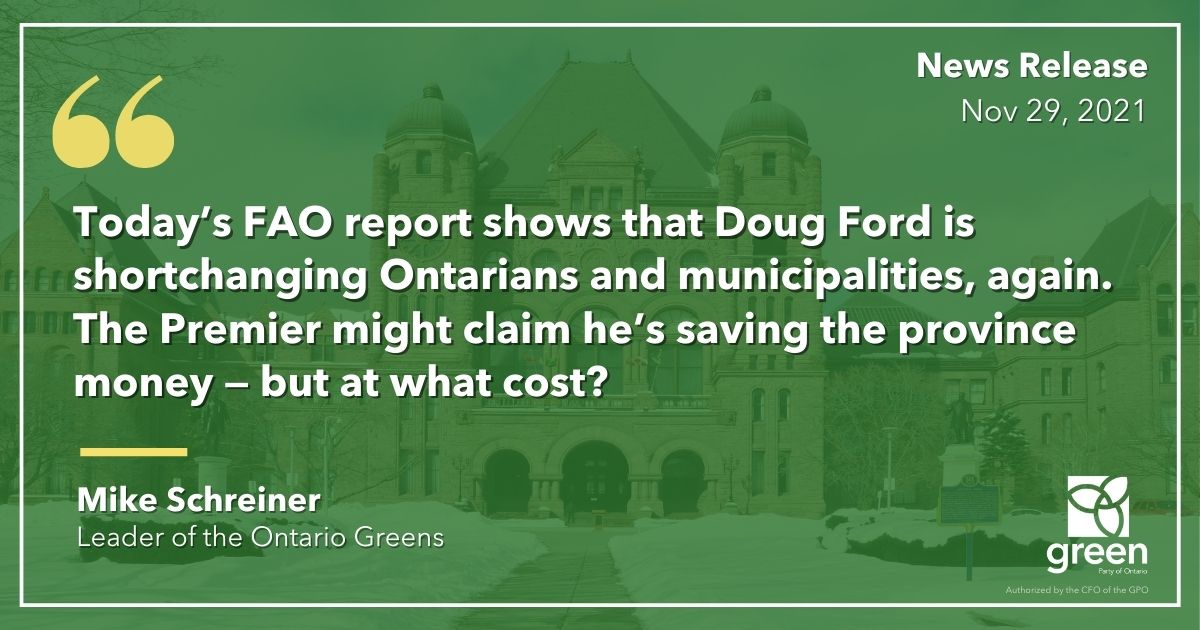 QUEEN'S PARK — Mike Schreiner released the following statement in response to this morning's FAO report:
"Today's FAO report shows that Doug Ford is shortchanging Ontarians and municipalities, again.
The Premier might claim he's saving the province money — but at what cost?
The nursing crisis is at a breaking point, the waitlist for autism services continues to grow, and schools continue to shut due to COVID-19 outbreaks.
If the pandemic has highlighted anything, it's how crucial up-front, proactive investments in health care, social services and education are. But Ford is slashing funding instead.
This is not the time for austerity.
Today's report also raises questions about why the government did not spend any of the $1.1 billion budget for municipal transit projects.
Investing in transit is vital to reducing emissions from cars and crushing climate pollution. It's a key part of building communities that are connected, sustainable and affordable.
The costs of climate change will continue to rise so long as this government delays on climate action. The provincial government spent $100 million fighting record-breaking, devastating forest fires this summer.
Climate-induced environmental disasters are accelerating, and at the current trajectory, they'll only get more frequent, severe and costly. Ontario needs to take urgent steps to tackle the climate emergency by crushing climate pollution and protecting nature and water."
-30-