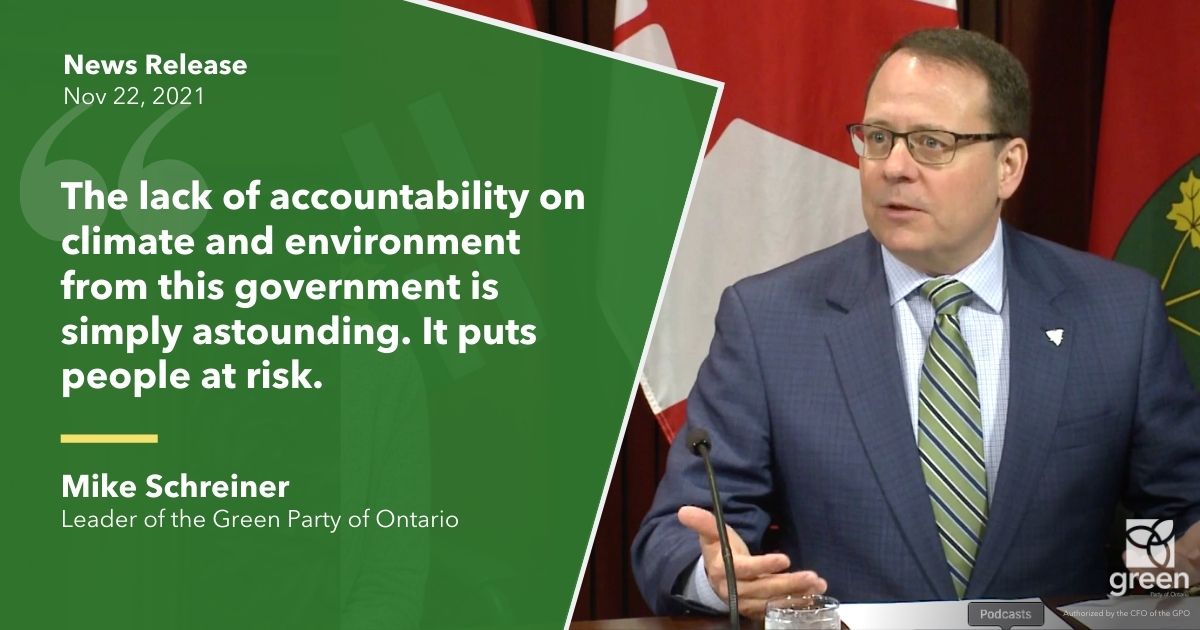 QUEEN'S PARK — Mike Schreiner made the following statement in response to the Auditor General's environment audits:
"Today's Auditor General report proves what we all knew to be true: Doug Ford is setting Ontario on a path for environmental destruction and failing to meet his lacklustre, made-to-fail climate plan.
The bar the PCs set was already so low, yet the Premier still found a way to go lower.
We are in a climate emergency. Climate-fueled environmental disasters are accelerating.
But instead of pulling the fire alarm, Doug Ford is pouring gasoline on already raging flames by:
exempting climate disaster projects like Highway 413 and the Holland Marsh Highway from any environmental oversight
ramping up GHG emissions and only fully implementing 27% of recommended climate actions from the 2019 Auditor General report
increasing approvals to harm species at risk endangered species by an astronomical 6262%
deliberately ignoring the public's right to be consulted on environmental decisions and violating the Environmental Bill of Rights
turning a blind eye to companies that cause hazardous waste spills and industry waste, and billing taxpayers for the cost
The lack of accountability on climate and environment from this government is simply astounding. It puts people at risk.
Ontario Greens have a real plan for real climate action.
We'll institute a carbon budget that will cut Ontario's climate pollution in half by 2030 and to net-zero every year from 2045.
We'll protect 25% of Ontario nature and water by 2025 and 30% by 2030.
We'll restore real protections for endangered species and implement a robust environmental assessment process.
And we'll hold polluting companies accountable.
If we want to address the climate emergency, we need to change course now. Ontario needs real climate leaders, not Doug Ford's anti-climate agenda."