For more information, please contact
Cecilia Stuart
Ontario Greens have a real plan for electric vehicles
November 17, 2021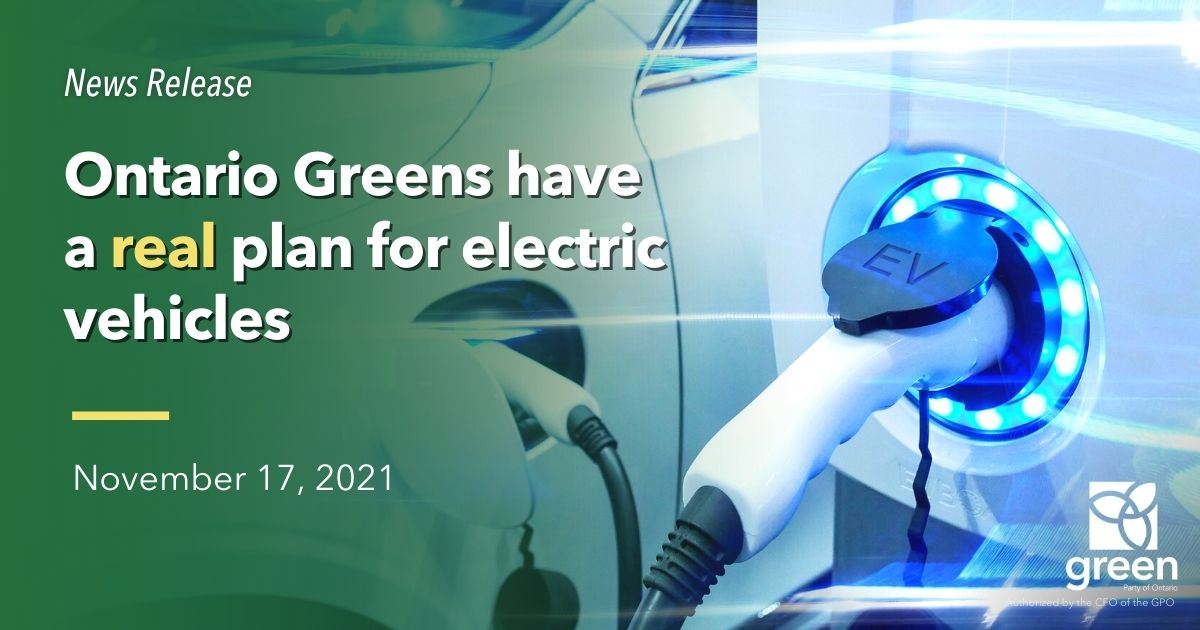 QUEEN'S PARK — Mike Schreiner made the following statement in response to Doug Ford's press conference this morning:
"Doug Ford's aversion to electric vehicles has contributed significant economic damage for Ontario and set the province backwards as the world embraces the green economy.
One of his first moves in office was to rip up Electric Vehicle (EV) charging stations. And just last week he opposed EV rebates and claimed EVs are only for millionaires.
Ontarians know why we need to go electric, they want to go electric, and we can help them do it.
Today's announcement is encouraging, but Doug Ford remains out of touch with what Ontarians need in order to transition to electric vehicles.
The green transition needs to be rooted in equity. It needs to be affordable for everyone.
That's why the Ontario Greens' Roadmap for Net-Zero climate plan will make EVs more accessible and affordable than fossil fuel vehicles through feebates, rental systems, incentives geared to income and a Zero Emission Vehicles (ZEV) mandate.
And we're going to invest in EV infrastructure and amend the building code to require new homes to have EV charging equipment installed. While requiring existing parking lots and garages to install access to EV charging in 75% of parking spots by 2035.
Our plan would reduce fossil fuel use in vehicles in half by 2030 and to net-zero by 2040.
It's a real plan for real climate action.
Ontario is well positioned to build on strengths in mining, innovation, financing and auto manufacturing to build a strong EV manufacturing strategy and electric transportation industry supply chain.
But Doug Ford's anti-climate agenda isn't helping.
Ontario Greens have the real leadership to build a cleaner, more prosperous future for Ontario. To build the world we want. Let's get started."
For more details on the Ontario Greens' electric vehicle plan, please visit gpo.ca/climate/transportation
-30-