For more information, please contact
Cecilia Stuart
Schreiner visits Dufferin-Caledon and calls for Highway 413 to be cancelled
November 10, 2021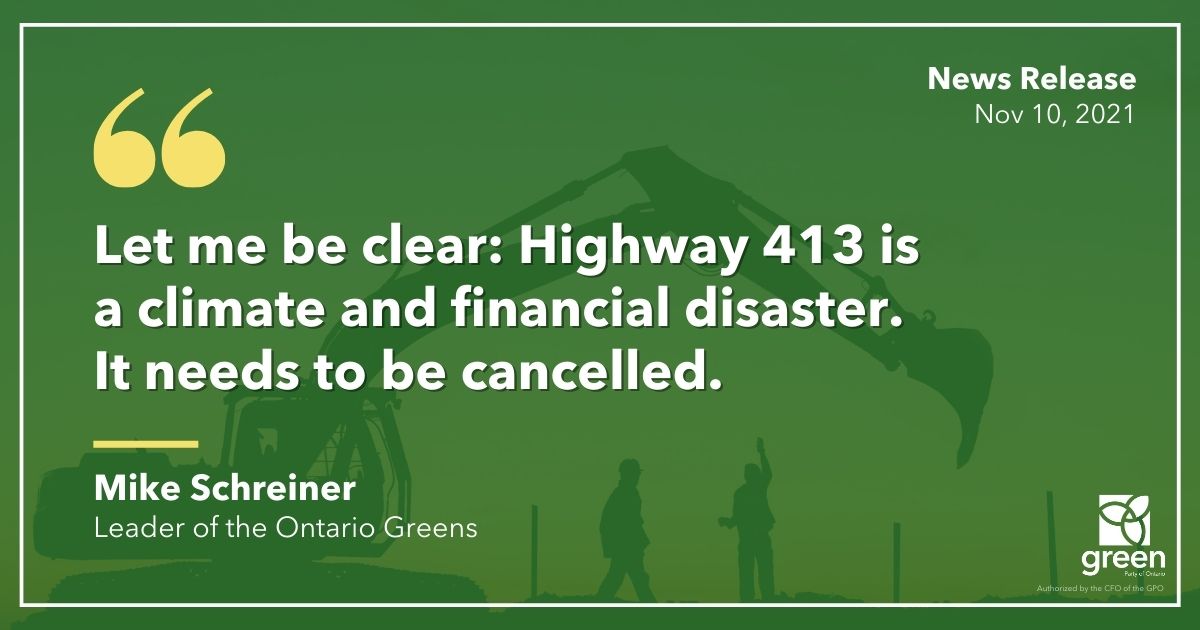 CALEDON – This afternoon Ontario Green Leader Mike Schreiner held a press conference along the proposed route of Highway 413 to call on Doug Ford to cancel Highway 413.
Instead of building a highway that mostly benefits wealthy land speculators and PC donors, Ontario Greens will build the livable, affordable communities people want so they don't have to commute for hours.
Schreiner was joined by Laura Campbell, Ontario Green candidate for Dufferin-Caledon, and Jenni Le Forestier, activist and 2021 candidate for the Green Party of Canada
"Let me be clear: Highway 413 is a climate and financial disaster," Schreiner stated. "It needs to be cancelled."
More and more local municipalities and communities are coming out against the highway. It is estimated that Highway 413 would pave over 2,000 acres of farmland, 400 acres of the Greenbelt, and cut through 85 waterways while saving commuters just 30 seconds.
And according to Environmental Defence, Highway 413 would pump 17.4 million tonnes of greenhouse gas emissions into the air cumulatively by 2050 — that's more than the entire City of Toronto emitted in 2018.
"We need to protect nature and build a more livable future for our kids," said Laura Campbell. "That's what I hear from the local people in this community. But Doug Ford would rather pave over wetlands and farmland and increase emissions than take meaningful climate action."
Recent investigative studies have linked Doug Ford's stubbornness on Highway 413 to a number of wealthy land speculators that would stand to gain from the project.
"Doug Ford is making decisions that will benefit his deep-pocketed friends instead of investing in the people of Dufferin-Caledon," Jenni Le Forestier said. "He's putting profits before people and the planet. It's unacceptable."
Schreiner emphasized a number of alternatives to Highway 413, including a dedicated truck lane on the 407, that would help increase the flow of goods without increasing climate pollution through induced demand.
"Ontario Greens have a better plan," Schreiner said. "Instead of pumping billions into more highways and urban sprawl, let's invest in livable and affordable communities connected by transit that protect nature and crush climate pollution."
-30-