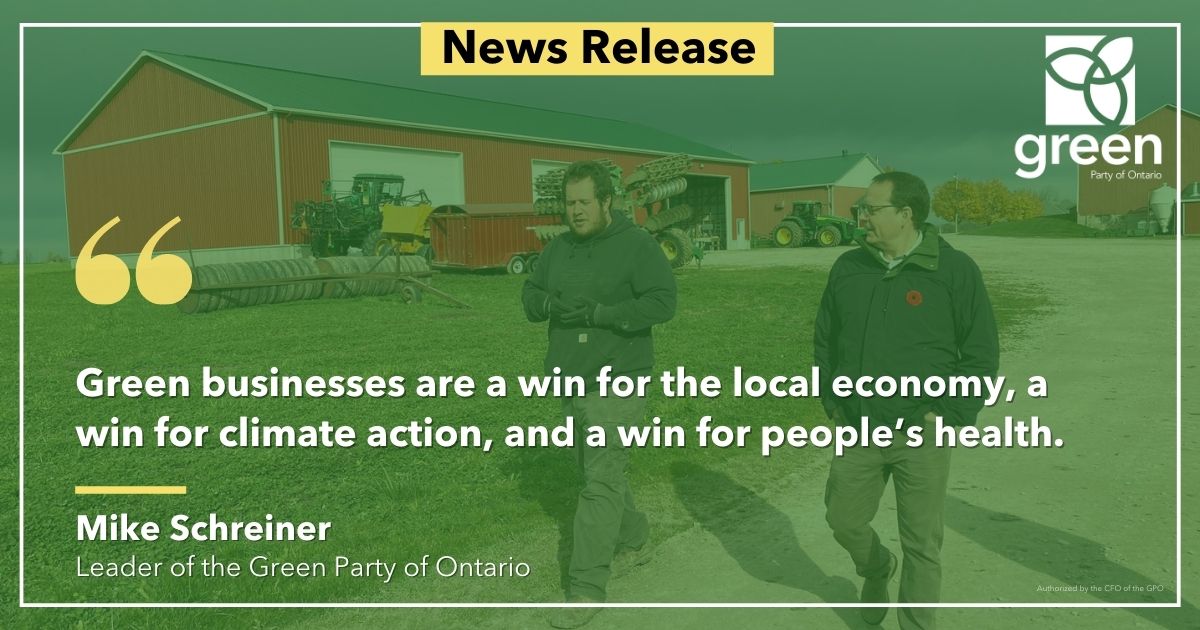 WATERLOO REGION – Ontario Greens Leader Mike Schreiner toured the Waterloo, North Perth and Wellington area today to visit local green businesses and call for more supports to kickstart a green recovery from COVID-19.
"It's so incredible to see local green businesses in action who understand the vast opportunity of the green economy and the need to address the climate crisis," Schreiner said.
"Green businesses are a win for the local economy, a win for climate action, and a win for people's health."
Just last week, the Ontario Chamber of Commerce put out a new report highlighting how Ontario is Well Positioned to Lead the Global Green Economy.
But unfortunately, the Ford government is turning a blind to the green economy and is instead doubling down on anti-climate investments like Highway 413 and the Holland Marsh Highway (Bradford Bypass) that will cost the province billions.
"Ontario needs to seize the enormous potential of the global green economy," Schreiner stated. "Green businesses need and deserve support from the government."
The Ontario Greens' new Roadmap to Net-Zero climate plan includes an investment of $5 billion in an EV Mobility and green technology innovation fund along with a $4 billion Climate Bank to help green businesses commercialize and scale climate solutions."
Schreiner visited Purus NA Ecoraster Inc., a low impact development (LID) permeable paving business in Listowel, North Perth; 3Gen Organics, a regenerative agriculture family farm in Wallenstein, Wellington County; and Zero Waste Bulk — Waterloo's first zero waste grocery store.
"Imagine how amazing it would be if green businesses like these had government partners that also took the climate crisis seriously so we could create new careers and better jobs?" Schreiner said.
"Ontario has the climate solutions, the resources and the human capital to seize the potential of the green economy and tackle the climate emergency. Now it's about the political will to make it happen."