For more information, please contact
Cecilia Stuart
Ontario Greens launch transformative Roadmap to Net-Zero to tackle climate emergency
October 28, 2021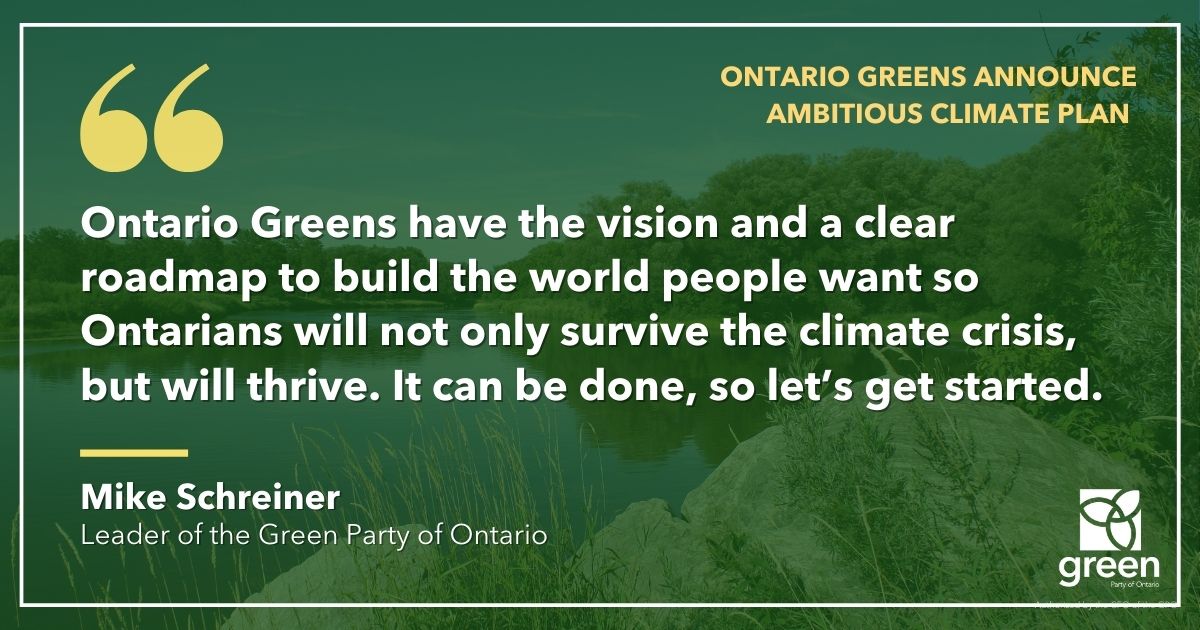 TORONTO — Today the Ontario Green Party launches Roadmap to Net-Zero: The Ontario Greens' Climate and Environmental Plan.
"Tackling the climate emergency is the Ontario Greens' number one priority," said Ontario Greens' Leader Mike Schreiner. "It is the most pressing issue facing Ontario and the world. It is the biggest challenge of our lives, and it is also the biggest opportunity."
"We are at a tipping point and need an honest, ambitious and practical plan that matches the urgency of the crisis we are in and takes advantage of the potential of the green economy to create new businesses and better jobs. Our new Roadmap to Net-Zero does just that."
The Ontario Greens' Roadmap to Net-Zero presents a vision for a healthier, greener and more prosperous Ontario that provides good, clean jobs, environmentally responsible and affordable housing, inclusive and caring communities, and a better way of life for everyone.
The Ontario Greens' Roadmap to Net-Zero will:
Adopt a Zero Carbon Law that sets a Fair Share Carbon Budget for the rest of the century and will cut Ontario's climate pollution in half by 2030 and to net-zero every year from 2045.
Clean the air by replacing fossil fuel used in vehicles in half by 2030 and to net-zero by 2040 with electric vehicles, transit, active transportation and connected communities.
Work with Indigenous Peoples to protect 25% of Ontario by 2025 and 30% by 2030.
Create new careers and better green jobs for hundreds of thousands of people, and improve business opportunities for thousands of green entrepreneurs.
Use energy efficiency upgrades and heat pumps to replace fossil fuel use in buildings 40% by 2030 and to net-zero by 2040.
"It is too late for climate action to be gradual and incremental," Ontario Green Deputy Leader and former Environmental Commissioner of Ontario Dianne Saxe said.
Ontario Greens recognize that urgency and immediacy is critical to tackling the climate emergency. That's why Schreiner tabled a bill this week that will set a Carbon Budget. "Climate action can't wait," Schreiner said. "If the other parties are at all serious about climate, they'll vote in support of this bill."
Around the world, individuals, companies and countries are turning away from fossil fuels and competing to win in the new, green economy. Yet Ontario continues to lag.
"The Ford government is actively worsening the climate crisis with their anti-environment agenda," Saxe said. "And the incremental half measures and compromises of the NDP and Liberals — like voting for pipelines at Queen's Park — won't cut it."
A significant 25% of the overall benefits of the Ontario Greens' climate plan will be focused on disadvantaged communities.
"We have a roadmap for an inclusive, Green transition that leaves no one behind," Ontario Green Deputy Leader Abhijeet Manay said. "A fair and equitable plan to get us to a zero-waste, net-zero carbon economy — without lining the pockets of the one percent at the expense of Ontario's most vulnerable."
"There is a way forward," Schreiner concluded. "We need a real plan for real climate action. Enough with the empty talk and unfulfilled promises. Ontario Greens have the vision and a clear roadmap to build the world people want so Ontarians will not only survive the climate crisis, but will thrive. It can be done, so let's get started."
To learn more please visit: www.gpo.ca/climate.
-30-