For more information, please contact
Cecilia Stuart
Ford needs to immediately address rampant nurses' burnout
October 13, 2021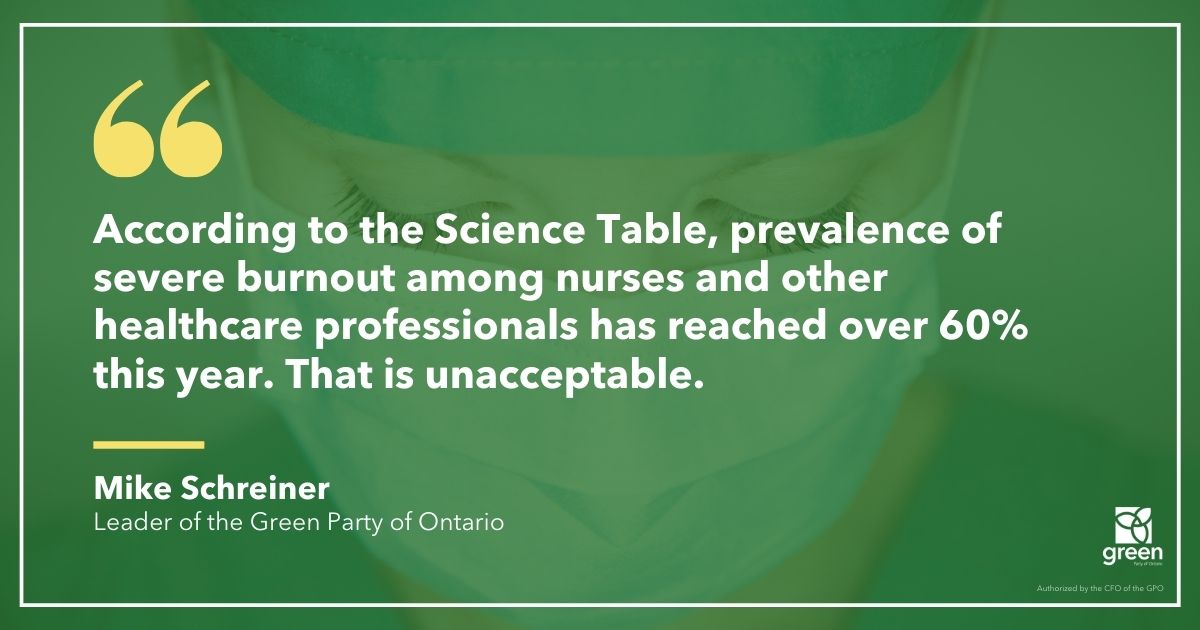 TORONTO — Mike Schreiner released the following statement in response to the Science Table's new brief on healthcare worker burnout:
"Doug Ford needs to act immediately to address the rampant cases of burnout that are driving the nursing shortage crisis.
According to the Science Table, prevalence of severe burnout among nurses and other healthcare professionals has reached over 60% this year.
That is unacceptable. Nurses deserve better. Patients deserve better.
What does it say about us as a province if we can't even protect the nurses and healthcare workers that keep us safe and healthy?
Enough with standing idly by and watching nurses suffer and burn out.
The Science Table and other experts are clear: to address nurses' burnout and the staffing shortage, Ontario needs to immediately increase retention by improving compensation and working conditions in tandem with a focused recruitment effort.
Failure to do both will result in a revolving door of underpaid and overworked nurses that leave the profession shortly after joining it.
I'm calling on Doug Ford to urgently address the stressful and harsh working conditions leading to nurses' burnout by implementing the following measures:
Repeal Bill 124 to give all nurses the raise they deserve
Implement a program to pay all nurses an additional $5 an hour if they are working on a short-staffed unit or department (10 or fewer scheduled nurses)
Provide N95 respirators for all nurses to protect them from airborne transmission of COVID-19
Make pandemic pay permanent for all nurses
Provide guaranteed access to mental health services for all nurses
Bolster admissions to nursing baccalaureate programs by 10 per cent in each of the next four years and increase the supply of Nurse Practitioners by over 50 per cent by 2030, as per RNAO's recommendations
Streamline and expedite the lengthy process of granting nursing licenses to qualified internationally educated nurses through the College of Nurses of Ontario (CNO)"
-30-