For more information, please contact
Cecilia Stuart
Mike Schreiner statement on the National Day for Truth and Reconciliation
September 30, 2021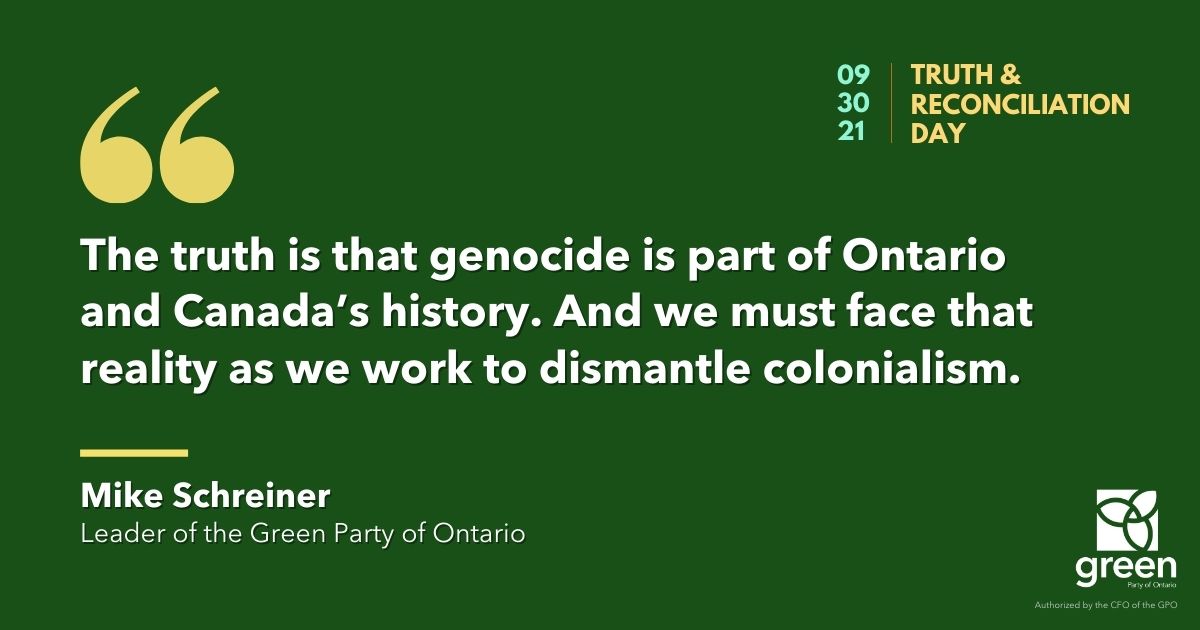 TORONTO — Mike Schreiner released the following statement on the National Day for Truth and Reconciliation:
"On the National Day for Truth and Reconciliation, we are listening, learning and reflecting. Learning about the traumatic, dark and racist legacy that we are reminded of every time new unmarked graves are uncovered across the country. And listening to the stories of Indigenous communities and the calls to actions by Indigenous leaders.
We cannot make progress on meaningful reconciliation until the truth has been uncovered and accepted by all.
The truth is that genocide is part of Ontario and Canada's history. And we must face that reality as we work to dismantle colonialism.
Confronting the truth means educating all Ontarians about the atrocities of colonialism and the history of residential schools.
That's why it's important to reinstitute the Indigenous curriculum writing session that the Ford government cancelled in 2018 to include more Indigenous content written by Indigenous scholars and the history of residential schools.
Because that horrific history perpetuates today in the form of systemic discrimination and racism that Indigenous peoples face.
The racism that results in a violation of the most basic human rights, like access to clean water and shelter. And the racism Indigenous peoples face in our medical, policing and education systems.
By working together and uplifting Indigenous voices, we can build a better society that addresses colonialism, systemic racism, white supremacy and oppression head on.
Today, and every day, Ontario Greens are fully committed to implementing the recommendations of the Truth and Reconciliation Commission.
Ontarians are good people. So let's continue to listen and learn so that we can accept the truth of the past and correct the wrongs of the present as we build a better Ontario and Canada for generations to come."
You can access Mike Schreiner's full video remarks for the National Day for Truth and Reconciliation here.
-30-