For more information, please contact
Cecilia Stuart
Schreiner calls on Ford to stop delaying on safer schools
August 31, 2021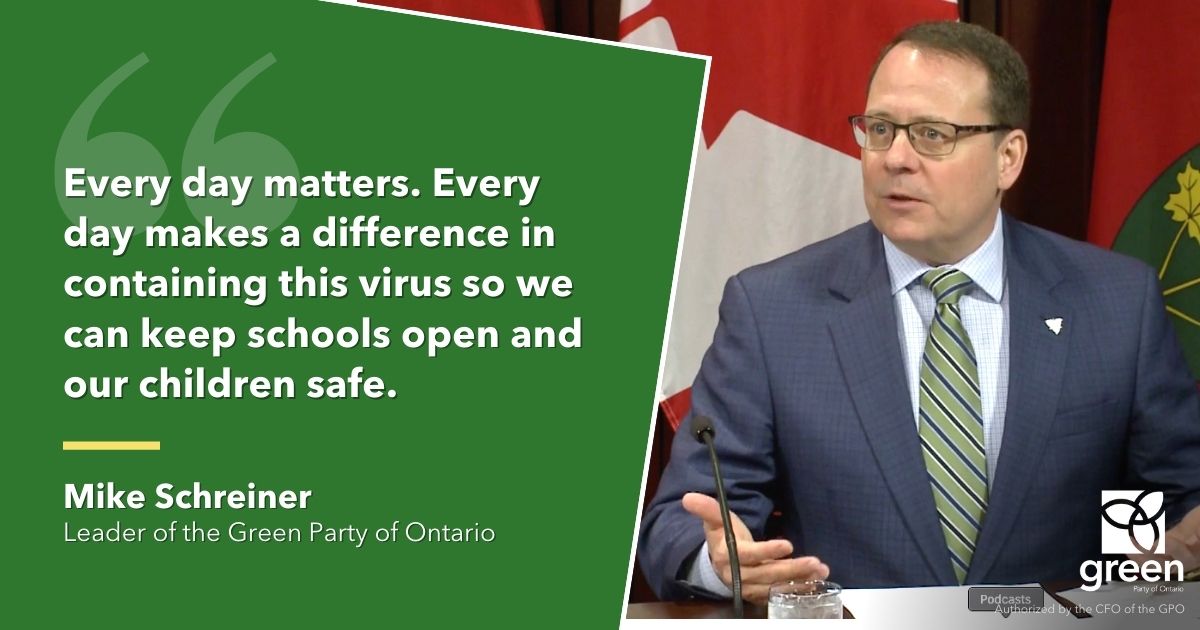 QUEEN'S PARK — This morning, Ontario Green Leader Mike Schreiner hosted a press conference to renew his call on Doug Ford to implement an effective safe schools plan that actually addresses the concerns education workers and parents have.
In exactly one week, millions of students will be heading back to school. But the Ford government has failed to implement the vast majority of measures recommended by public health experts that are necessary to keep schools open and keep students safe.
"This should be a time of excitement, of new beginnings and reconnecting with friends," Schreiner said while highlighting the Ontario Greens Safe Schools Plan. "But instead, it's a time of anxiety, worry and frustration for parents, educators and staff, and kids."
Ford has failed to lower class sizes, mandate vaccines for teachers and staff, and implement a sufficient outbreak management and testing system. And while some ventilation improvement projects were announced earlier this month, 18 school boards across the province have said the upgrades won't be ready for the start of school next week.
With COVID-19 cases, hospitalizations and ICU admissions are all on the rise, Schreiner emphasized the need for Ford to act with urgency and decisiveness.
"Every day matters. Every day makes a difference in containing this virus so we can keep schools open and our children safe. Children under 12 are still ineligible for the life-saving vaccine," Schreiner stated.
"That is why Ontario needs a comprehensive back-to-school plan — not half measures, dithering and delay."
Schreiner also emphasized the importance of mental health support as students head back to school. Many kids have suffered severely from the social isolation and learning impacts of online school. The Ontario Greens Safe School Plan specifically calls for:
An end to hybrid learning and quadmesters that have negative impacts on student mental health and quality of learning
A sufficient number of mental health professionals at every school
A province-wide school lunch program to address issues of food insecurity, household economic instability and eating disorders which have been exacerbated by the pandemic
Schreiner concluded his remarks by highlighting that the Ontario Greens are ready to work across party lines to ensure a safe return to in-class learning.
"This is bigger than politics," Schreiner closed. "This is about the well-being, safety and future of our kids."
"So Premier, are you ready to work with us to keep schools open and keep students safe?"
You can view Mike Schreiner's full remarks from this morning here.
-30-