For more information, please contact
Cecilia Stuart
Amid increasing flood risks, Ford needs to protect wetlands and support municipalities
August 5, 2021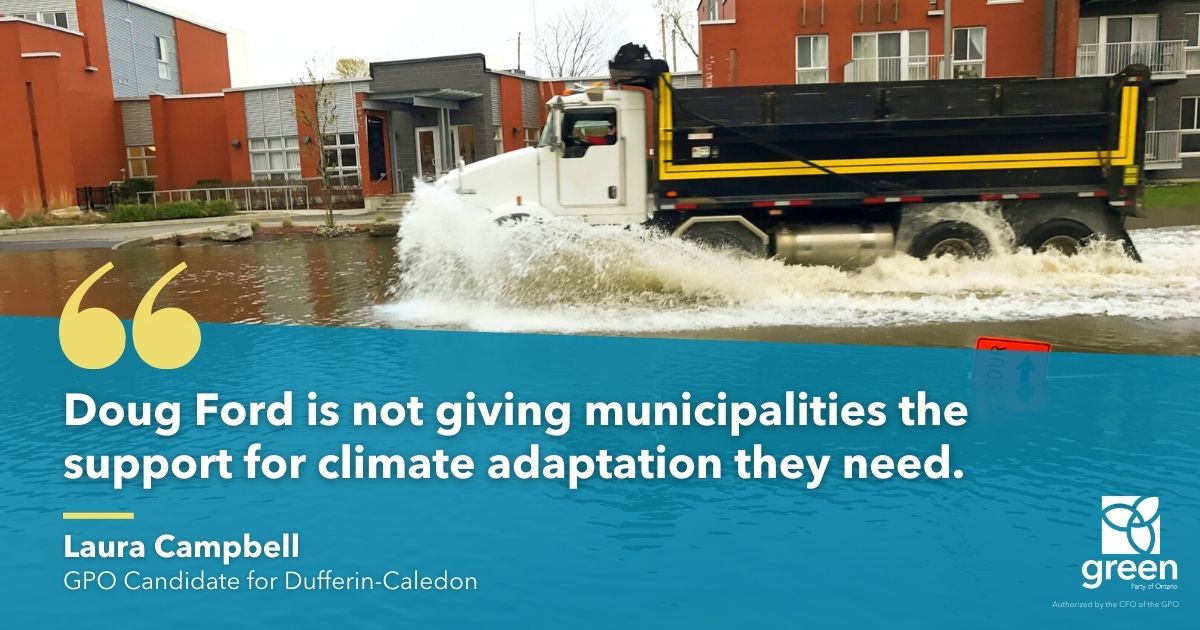 TORONTO — The climate emergency is intensifying severe weather events like flooding, which are extremely costly for municipalities. The time for urgent climate action is now.
A new report from the Great Lakes and St. Lawrence Cities Initiative projects shows that Ontario cities will need to spend at least $276 million against flooding in the next five years. Although the report acknowledges that figure could be much higher.
"But Doug Ford is not giving municipalities the support for climate adaptation they need," said Laura Campbell, GPO candidate for Dufferin-Caledon. "Instead he's downloading costs, ignoring the severe risk flooding poses, and has stripped power away from Conservation Authorities that would help mitigate flood risks."
As the climate crisis worsens, extreme weather events like flooding will only get more frequent and intense.
In the past two years alone, coastal Ontario communities have already spent $82 million combatting flooding. And at the same time Doug Ford is paving over wetlands and greenspaces with ill-advised projects like Highway 413 and reckless urban sprawl.
Southern Ontario has already lost 75% of its wetlands, which are a critical natural protection against flooding.
They also act as carbon sinks, pulling carbon from the air and reducing the amount of greenhouse gases in the atmosphere.
"Doug Ford is gutting the power of Conservation Authorities, and changing the Planning Act to suit his pro-sprawl, anti-environmental agenda," said Campbell. "But I can assure you he won't be there to pay the $43,000 bill for your flooded basement."
-30-