For more information, please contact
John Chenery
Ford needs to stop playing games with the Greenbelt
June 16, 2021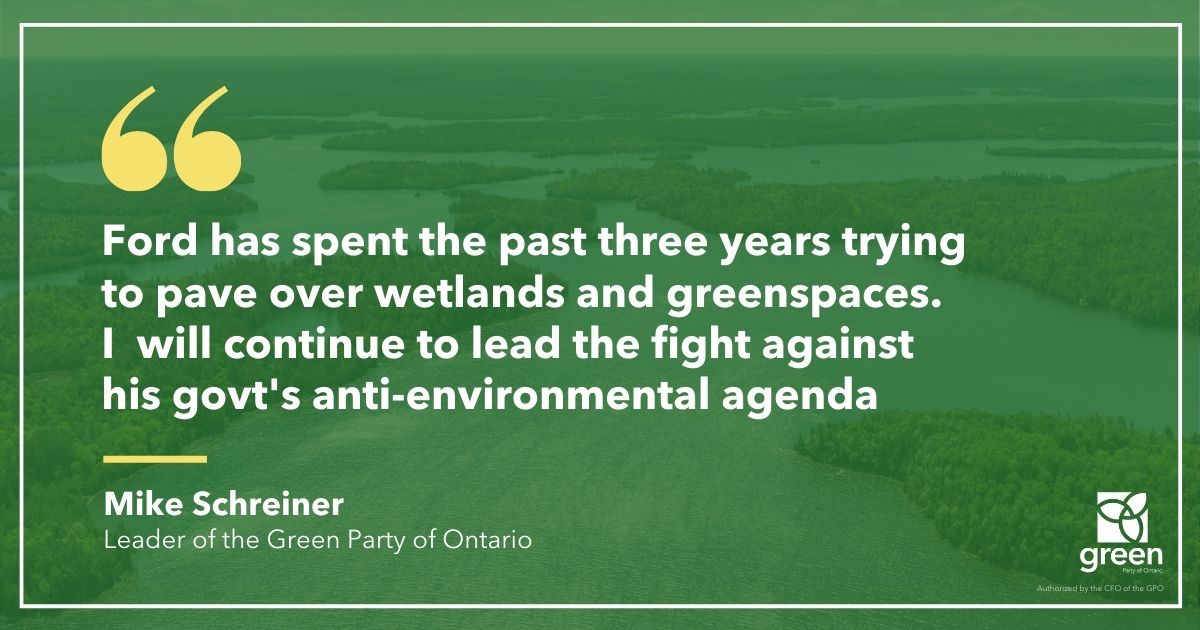 TORONTO — This morning's Greenbelt announcement by Minister Clark is nothing more than a distraction from their environmentally destructive policies.
The Ford government claims it will add two acres of protected or enhanced green space in Ontario for every acre that receives a Minister's Zoning Order (MZO) for development, as well as add 360 hectares of privately owned lands to the Greenbelt.
However, reports show that this land is largely already protected from development.
GPO Deputy Leader Dianne Saxe said that, "The Ford government seems to think that land is interchangeable like Lego blocks. This is nonsense."
"Of course they should expand protected areas; Ontario has only a fraction of the protected areas that the whole world has agreed to. But that will never make up for the damage they cause by destroying irreplaceable public assets in critical locations, like the Duffins Creek Wetlands."
Ford's legacy of environmental destruction grows stronger everyday.
He's spent the past three years trying to pave over wetlands and greenspaces, and has fought tooth and nail to silence any voices who protect the environment and stand in his way, including Conservation Authorities.
"MZOs should be the exception, not the rule. But under Ford's leadership, the government has been using MZOs far too loosely and many times in an attempt to override environmental concerns, when they could be used to strengthen environmental protections," GPO Leader Mike Schreiner said. "Greens will continue to lead the charge against Ford's destructive, pro-sprawl agenda"
Greens believes that if Premier Ford is serious about expanding the Greenbelt, he would:
Restore the power of Conservation Authorities

Cancel Highway 413 that paves over 400 acres of Greenbelt and 2000 acres of farmland

Bring back proper Environmental Assessments

Stop abusing MZOs to push through environmentally destructive developments

Cancel plans for the Holland Marsh Highway that slices through the Greenbelt
"I will continue to lead the fight against Ford's anti-environmental agenda," Mike Schreiner said. "And I will do everything in my power to protect Ontario's greenspaces from this government."
-30-