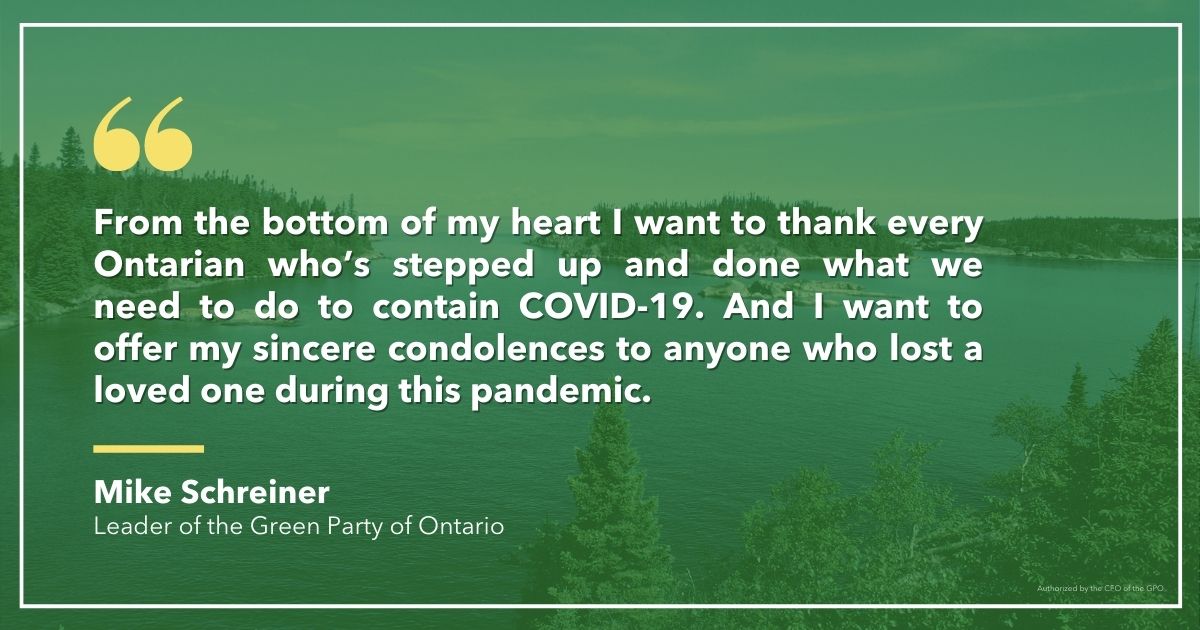 QUEEN'S PARK — Mike Schreiner released the following statement on the one year anniversary of the WHO declaring COVID-19 a global pandemic:
Watch Mike's video statement here.
"Today marks the one year anniversary since the start of the pandemic here in Ontario.
From the bottom of my heart I want to thank every Ontarian who's stepped up and done what we need to do to contain COVID-19. And I want to offer my sincere condolences to anyone who lost a loved one during this pandemic.
I want to give a special shoutout to all the essential workers, especially those in vulnerable workplaces: the people who cared for our loved ones in hospitals, doctor's offices, or long-term care homes; the people who kept distribution warehouses going and farms producing food; the people who stocked our grocery store shelves and took care of, and advocated for, the most vulnerable on our streets and in our shelters.
I want to thank the people who reached out to help a neighbour, picked up groceries for somebody, shoveled their walk for them during the winter, or just checked in to see if they're doing okay.
My heart goes out to all the people who lost their job, had to close their small business, or are just going through a really tough time during the pandemic.
I know it's a bit of a cliché that we're all in this together, but I hope we can keep that spirit of unity, of community, of caring, of inclusivity. Because we're not out of the woods yet. And while there's light at the end of the tunnel with the vaccines, we still have to keep working together to contain the spread of COVID and avoid a third wave and another lockdown.
I know we're tired, but let's keep looking out for each other, keep caring for each other, and supporting small businesses in our communities. So we can get through this pandemic and recover, together."