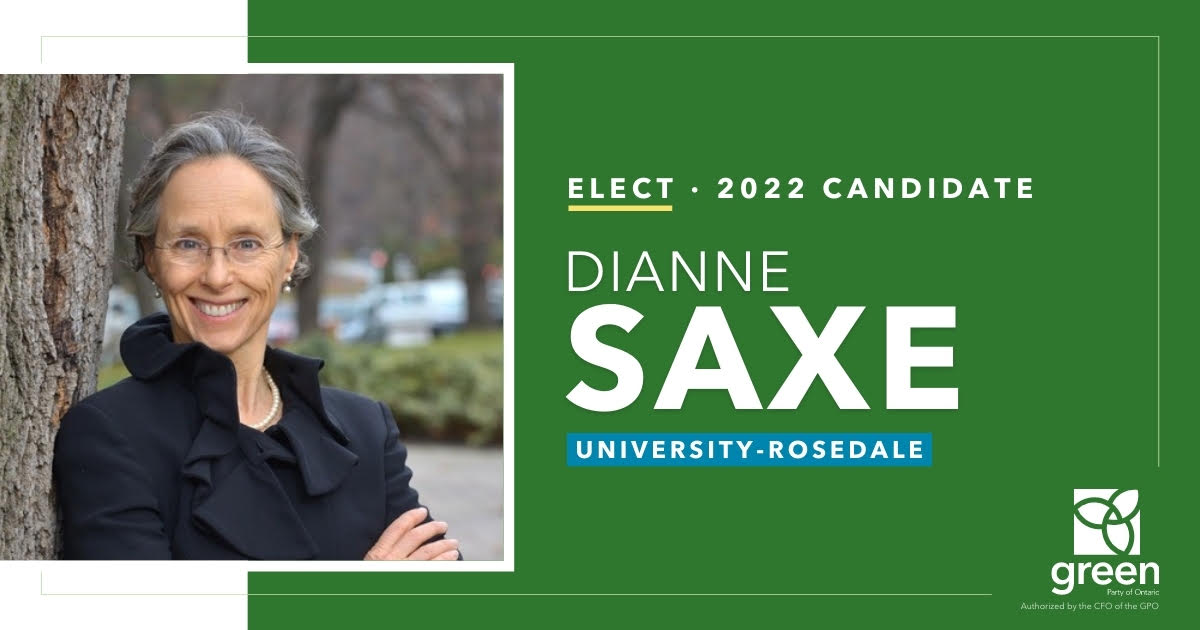 TORONTO — The Green Party of Ontario is proud to announce that Dr. Dianne Saxe has been officially nominated as its candidate for the Toronto riding of University-Rosedale, ahead of the 2022 Provincial election.
"Doug Ford's relentless attacks on nature makes us less safe," said Dr. Saxe. "He is using the pandemic to enrich a few wealthy donors by bulldozing laws and institutions, such as our conservation authorities, that protect nature and public space. Once these precious natural areas are gone, turned into subdivisions and big box stores, they are almost impossible to restore. Ordinary people will suffer the consequences for generations, long after Doug Ford and his friends have pocketed their profits and disappeared."
Last month, Dr. Saxe was appointed as Deputy Leader by Green Party Leader, Mike Schreiner.
"It's an honour to see Dr. Saxe being nominated as a GPO candidate," said Schreiner. "The level of expertise and dedication that she brings to environmental policy is unmatched. We are at a critical point in the need to deliver climate action. Having the right people at Queen's Park is going to make an impact on whether or not we are able to turn the tide on the climate crisis. Having Dr. Saxe at Queen's Park will be a game changer for our province."
Follow Dr. Saxe's campaign at votefordianne.ca.
About Dianne Saxe
Dr. Saxe is one of the world's leading environmental lawyers and has been recognized provincially and globally for her work. Dr. Saxe served as the Province's top environmental watchdog and was the guardian of the Ontario Environmental Bill of Rights, delivering 17 reports on environment, energy, and climate.
As a practicing lawyer, she represented community groups protesting acid mine drainage and logging of old-growth forest, and obtained $115 million for municipalities in bitterly contested arbitration over the Blue Box program.
She currently practices law, focussing on the climate crisis, and serves as the Chair of Toronto City Council's climate advisory committee.