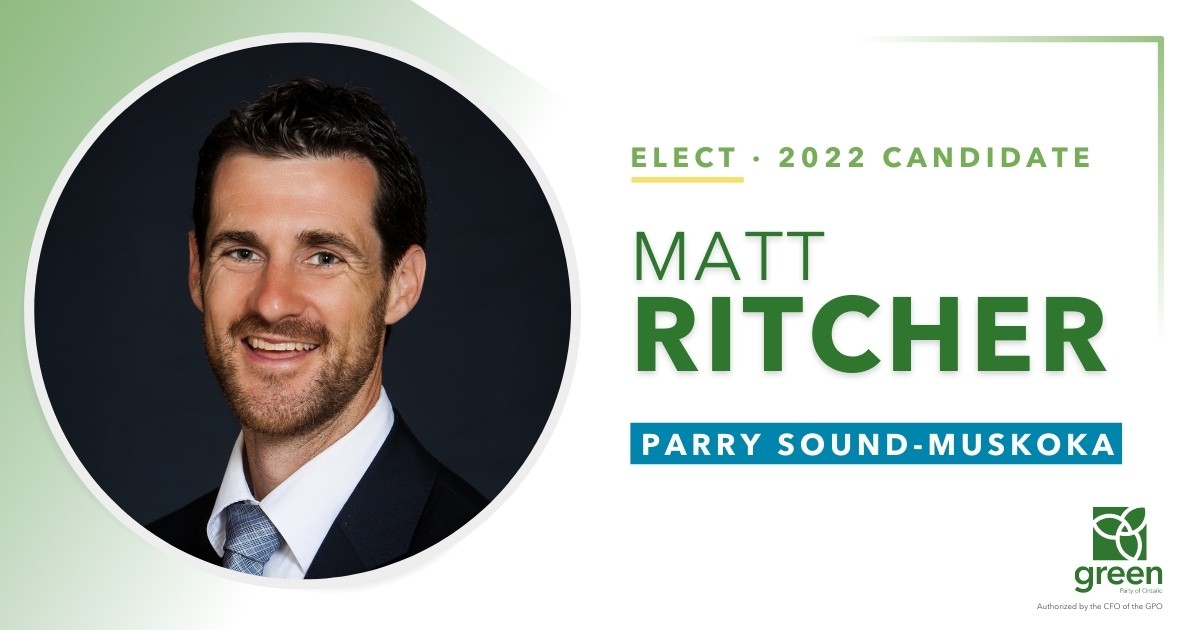 PARRY SOUND-MUSKOKA — The Green Party of Ontario is proud to announce that Matt Richter has been nominated as its candidate for the Parry Sound-Muskoka riding ahead of the 2022 Provincial election.
Matt currently serves as Shadow Critic for Education for the Green Party. Matt has been a teacher with the Trillium Lakeland District School Board for 21 years. Over the last four elections, Matt has increased the percentage of green votes from 9% in 2011 to 20% in 2018.
A dedicated entrepreneur, Matt is the owner of Best Ever Food, a local food production business in Muskoka that provides handcrafted nuts and seeds to retailers across Ontario.
"I'm running because we need more greens at Queen's Park to fight for the issues that matter to Ontarians," Richter said. "Our environment and the economic recovery of Ontario are not separate issues. Greens have a way to provide a greener and a more caring economic recovery and I want to be a part of that. The Ford government is too eager to do away with environmental protections that serve to prevent flooding and climate change. Mike Schreiner has been doing a terrific job at Queen's Park this term and I hope to be there by his side in 2022."
"Matt brings a lot of determination and energy to the Green Party and I'm happy to see him nominated," said Mike Schreiner, leader of the Green Party of Ontario. "As a party we are growing in membership and outreach and I'm proud of the record we've set at Queen's Park so far, which includes passing the first green law. In 2022, I hope to have more green MPPs sitting next to me in the legislature."